by Ben Daniels (Admin) on Oct.03, 2014, under TheCastingRoom
We've already seen hot and handsome army guy Chris a few weeks ago when he came to his first audition (you can see it here). Since he looks so adorable and hot we thought it would be a real shame if we let him go without trying out some other things besides the classic solo jerkoff. Namely, he said somewhat reluctantly that he was not opposed to the idea of having sex with another guy, because he could really use some additional money. We also wanted to know if he would be able to take a hard pounding before we put him in some more serious and expensive video with more than two participants. So when he arrived today he wasn't quite sure what exactly was going to happen, and we didn't want to spoil the surprise so we didn't tell him that his ass would be penetrated by a huge cock within just a few minutes.
Chris has got a very nice muscular body that is a result of many years spent in the boot camp. Hard workout regimes in the Army have sculpted his body into a strong and sexy fighting machine. Since our interviewer Dave was in the Army himself back in the day, he knows very well how to deal with other marines. First Dave removes Chris' clothes and inspects his body from head to toe, then he focuses on his balls and soft cock and begins to grope them. Although Chris is straight and likes to fuck ladies, when he's put with another dominant guy he obviously tends to be submissive so he quickly dropped to his knees and started servicing Dave's large erect cock. Chris wants to give his best and tries to deepthroat Dave's long stiff rod, and he mostly succeeds.
Next, Dave positions Chris on the table and pushes his legs high up in the air so he can get a direct access to his tight virgin asshole. Dave uses his tongue to make Chris' hole more relaxed and easier for the upcoming penetration. Dave is determined to fuck this young soldier real hard and deep so that he would never forget his first time. However, Dave realizes that there's a slight problem that needs to be overcome – being a total ass virgin, Chris's hole is so tight that it's really a challenge to stretch it and even a lot of spit and licking doesn't seem to help much in the beginning. When Dave shoved his dick deep into Chris' ass, Chris experienced a very sharp pain that made him clench his teeth and hold on tightly to the table with his hands. As Dave continues to pound him mercilessly, Chris' hole stretches more and he gets used to the sensation of being fucked by another man. Dave can now fuck him much deeper and harder once that army cherry has been popped. By the way, Dave thinks that there's hardly anything better in sex than deflowering a tight soldier's ass, and we really have to agree!
Now Chris is again kneeling before Dave and awaiting Dave's torrent of jizz to hit his face. Soon enough Dave dumps his load which lands on Chris' stomach. But that wasn't the end of his ordeal. Chris now must rim Dave's hairy asshole so that we can see how this army boy can satisfy a man with his tongue. It seems he's pretty good, so that means we can cast him in the videos that require a skillful use of tongue.
So there you have it, two hot and strong military men going at it, very much in the down and dirty manner. I think Chris has a stellar porn career ahead of him!
Click here to watch their entire casting video in HD quality at
The Casting Room!
The Casting Room (formerly known as First Auditions) is a great, original porn site that showcases young, cocky straight men who would like to become porn stars and make loads of cash. They think that they'll be accepted right away and be able to fuck lots of girls, but they don't know that our casting director is very strict and wants to fully inspect them during the audition. He orders them to get fully naked, show their ass, and jerk off so that we can clearly see the cumshot. Plus, we get to hear all their fetishes and what turns them on.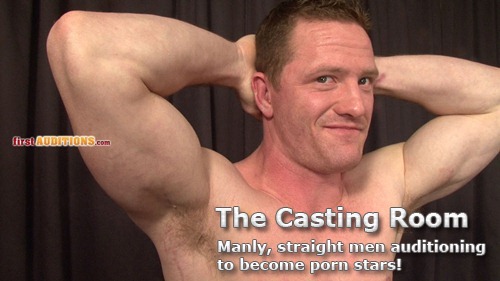 :blowjob, Chris, deflowering ass, first time anal sex, handsome, huge cock, Master Dave, military men, muscled, rimming, stiff cock, straight men, tattoos, upright cock