Forest Marks is still a kind of newbie when it comes to hardcore sex. Sure enough, he's had his fair share of sex but he's still unsure and kinda shy in front of the camera. On the other hand, Alex Griffen is an old pro already, and as soon as he saw Forrest the two guys became good buddies. They even started to hang out together and this lasted for a few days before this shoot.
There's definitely some kind of bromance going on between these two guys, because even though they're both straight, they just can't stop laughing and giggling when they're together! Last night, for example, we found out that they were talking and giggling all night long about who knows what while they were in bed. Only God knows what they were talking about!
As time went by these guys got much closer to each other and they even started to give each other real blowjobs as a matter of course. Last weekend, for example, they exchanged blowjobs like it was nothing!
So you can guess that when it was time for them to have their first hardcore scene, it definitely wasn't perceived as a chore. They kept smiling and giggling and exchanging curious glances. There was an aura of friendliness and warmth around them and I couldn't help noticing that they were both very much into it.
As it usually goes with these shoots, the guys were instructed to get their cocks hard for the photographer who is supposed to take the still pictures of them. But instead of each guy using his hand to get hard, Forrest just got on his knees and started to service Alex until his buddy was rock hard! I shit you not, we even didn't have to say anything – can you imagine that with straight guys?
Well, what can we say about their fuck scene? It was pretty damn spectacular, and we were anxious whether we'd be able to catch every hot scene properly on the camera. Don't ask me, but I think they continued to fuck each other even when the cameras stopped rolling! These two guys have become real life fuck buddies, no doubt about that. One more reason to look forward to Spring Training.
Preview video: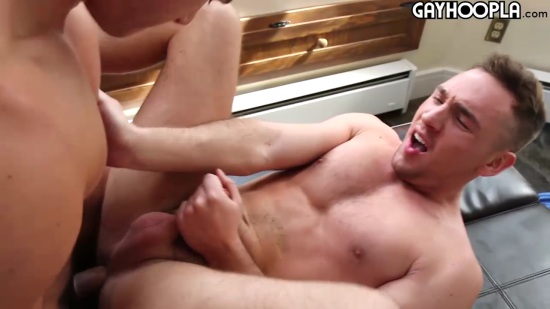 Click here to watch or download their entire video in HD quality at Gayhoopla.
Gayhoopla is a relatively new site and it has an interesting history. Several of the guys from well-known site Fratpad decided to establish their own amateur site, and so USA Cam Guys was born. But the members of this site complained that there was very little concrete action going on. So, the "naughty" and more hardcore sister site was created – Gayhoopla – which contains much more hardcore action among the participants. Despite its name (Gayhoopla) this site actually has more straight guys than some other allegedly straight boy sites out there. It is really reminiscent of Fratmen and Fratpad, so if you're into hot American straight jocks and amateur guys this website is a must and you should check it out. The site contains over 200 streaming videos, daily scheduled live shows etc, so it definitely stands out when compared to other porn sites.