by Ben Daniels (Admin) on Dec.18, 2016, under CFNM
Donovan is a hot, muscular and big-dicked footballer. These women are professionals for making photo stories of hot sportsmen for their women's magazine, and many hot footballers have passed through their studio over the years. The women have seen naked men many many times, but for Donovan this awkward situation is totally new and he feels very vulnerable. He's used to being the dominant macho guy with an inflated ego, and now all that confidence seems to have evaporated into thin air while these strict ladies are commenting upon every little part of his naked body!
Kate Stone in particular is especially keen on putting Donovan through some special examinations, because she likes this hot sporty stud, and she thinks he can handle it. Kate puts on a strap-on and tells Donovan to take it like a man! Well, you can certainly appreciate Donovan's surprise as Kate's dildo slid up his ass. Suddenly, this once arrogant and feisty hetero hunk finds himself in the situation which is like hell for him – being in a submissive position and being dominated by a woman – unthinkable! Donovan's large, fat cock doesn't seem to care about his predicament, however, and soon gets hard while these women are touching it from all sides.
Kate Stone doesn't care one little bit about Donovan's uneasiness either, she knows that the photos will turn out just fine, and by the way, it doesn't hurt to put an arrogant hetero chauvinist in his place sometimes.
Click here to watch their whole video in HD quality at CFNM (Clothed Female/Nude Male)!
Clothed Female Naked Male (CFNM) is a very hot site for lovers of truly straight guys. It definitely has "a tongue in cheek" quality to itself, and both the men and women are really hot!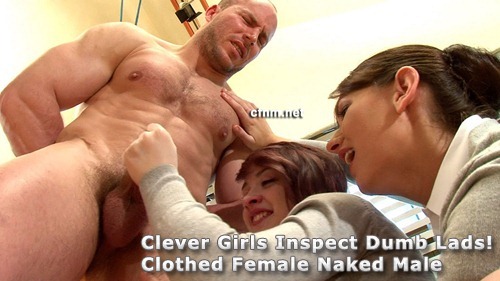 :big dicks, Donovan, fat cock, female domination, footballer, fucking with strap-on, inspected, Kate Stone, muscled, spontaneous erection, sportsmen, stiff cock