Beefcake Justin has justifiably earned the status of a legend on Beefcakehunter site. His fans love him and always want to see more of him. Therefore, Victor was eager to bring this hot hung handyman and mover back to his site. The two of them chatted over the interbet for quite a while so as to agree about all the details of their next video.
Knowing that he has a lot of fans, Beefcake Justin even contemplated to take a few days off, in order to prepare for the big event. However, he was just too busy and even had to work a few hours on the day when he arrived again at the BeefcakeHunter headquarters. Victor offered him some cold beer and also a shower as a refreshment. So, for all lovers of shower scenes, this is the video to watch!
A bit later, we see Justin chilling on the bed and drinking beer while Victor is devouring his huge cock. Justin kept touching and caressing Victor's back with his big masculine hands – hot and sweet at the same time. So characteristic of our masculine top Alpha Man Justin!
Victor rightly suspected that Justin's cock really missed him, so he decided to be brave and kissed and licked Justin's hairy chest, nipples, and neck! You really have to envy Victor sometimes for his men!
By this tine the itching to grt fucked in Victor's always cock-hungry hole was at its height, so he didn't waste any time and promptly assumed the doggy position – he got on all fours and let Justin penetrate his ass with his huge uncut Polish cock!
Receiving such a huge piece of man meat in your ass is never an easy task, even for seasoned bottoms like Victor. So in the beginning, there was some pain, which was quickly forgotten as soon as Victor started to enjoy being fucked hard! And Justin also seem to enjoy his role of an aggressive hard fucker – just pay attention to his face expressions while he was nailing Victor's ass.
Then, these two guys switch to a much less revealing, but far more romantic position – the missionary position. Victor says that having Justin's big heavy body on top of his was something that he could enjoy every day and night for the rest of his life!
Victor rode that cock like a pro that he is for quite a while, and then Justin decided to be more dominant and grabbed Victor's butt. So although Victor was riding that cock, Justin was also doing the fucking, and Victor felt as if he was completely subjugated to this dominant masculine man.
Victor says that he had never ridden Justin's cock in that position, but it felt so good that he loved every moment of it. The camera captured this very well and you can see clearly how Justin's massive dick penetrates Victor's little man-pussy over and over again.
And finally, for the grand finale, Victor positioned himself between Justin's legs and started to milk that monster cock while Justin was moaning with pleasure. And soon enough, Justin delivered a big creamy load of Polish milk!
It's always so satisfying to spend time with Justin. And he now realizes that he has a lot of fans, so he took opportunity to address his fans and said a few words intended for them. This was really a very nice fuck session with this masculine straight guy which we always like to watch.
Preview video: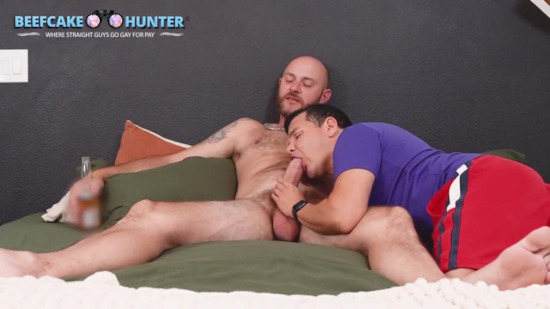 Click here to watch or download their entire video in HD quality at BeefCakeHunter.