by Ben Daniels (Admin) on Jul.14, 2017, under CFNM TV
Martin is one of those hot straight guys in his early 20s, and you can bet that the thing that occupies his always horny brain is pretty much always the same – 90% of time he thinks about girls and how to get them into his bed.
No wonder, then, that Martin doesn't mind doing all kinds of stuff, as long as he can get his hands on naked women. This time round, however, the challenge was pretty hard: he was required to get totally naked, get on his bike and cycle through the center of the town totally naked while the crowds cheered him.
But, despite all those cheering spectators, the only thing on Martin's mind was luscious Vivien Rebus. The thought of having finally won her heart and got her into his bed has kept him from succumbing to his fears and leaving the battlefield.
And now there's a new unpleasant surprise for Martin: he runs into his college friends and since they all know him very well he can't feign ignorance. Ahh poor Martin, there's no escape for him now. He must face his college mates totally naked!
The girls have already noticed him and are already giggling in a slightly deprecating and condescending manner. His worst nightmare has come true… but perhaps his courage will pay off eventually? In any case, the girls seem to have a little plan of their own, to show Martin that it is them girls who are really in charge…
Click here to watch their entire adventure in HD quality at CFNM TV!
CFNM TV is a brand new site from the creators of sites such as CFNM, Brutal Tops, Breeder Fuckers, The Casting Room and CMNM. If full-length videos of hung masculine men being dominated by beautiful horny women turns you on, you're certainly going to enjoy this site. It is actually the video site specific CFNM site that's made especially for those who prefer videos to photo stories.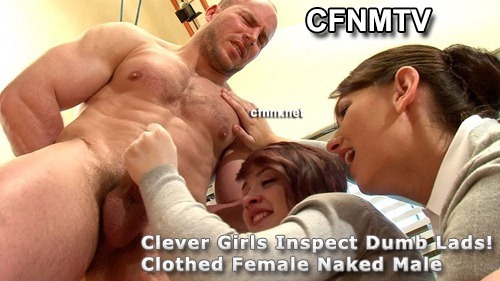 :beefy, female domination, Martin, muscled, naked men, riding bike naked, straight men