by Ben Daniels (Admin) on Jan.31, 2016, under CFNM TV
We continue the hot story about this team of American Footballers and their adventures with horny female physiotherapists which we started just before the Christmas (you can read the first part here).
Physiotherapist Abi is convinced that she is highly skilled when it comes to taking care of sportsmen's aching wounds after hard workouts or exhausting games. Today she is about to give a professional massage to Carl, a hot beefy footballer who was particularly prominent during the entire contest today. She always maintains high professional standards and everything she does is always exceptionally correct as far as the massage theory is concerned. However, Carl can't help but fantasize about her in various sexually charged situations – not to mention all the things that he would do with her if he had a chance to! Such an attractive and hot woman can always make a man crazy with desire and it's no wonder that his cock got totally hard within a few minutes!
Abi's tender, caring hands on his strong body and ripped muscles have caused his cock to grow so hard that it's now throbbing and "jumping" from time to time. Of course, Abi soon notices his fully erect dick and chastises him for not keeping his sexual fantasies under control! When the first round of massage was over, Carl called his buddy on the phone and told him what a fantastic female therapist he found in the massage room, and recommended him that he checked her out as well.
Little did Carl know what kind of plans Abi has had for him and his friend. Abi decides that Carl should be punished severely for not keeping his sexual urges under restraint, which is what is expected from all serious sportsmen. She asks her female colleague to help her restrain and tie Carl up with a rope so that he can't move. The dominant women also put a piece of cloth in Carl's mouth so he can't talk. The two sexy but very strict women are now happy with Carl's submissive position and are thinking about what else they might do in order to bring this naughty athlete under their full control and supervision!
Meanwhile, Carl's football buddies are working out in the gym and enjoying their time in the hot tub when suddenly Abi barges into the room and starts putting forth demands that these sportsmen should be restrained.
Poor Jack has never been so humiliated in his entire life! He didn't know that when he was making his wild claims about Abi his speech was being eavesdropped and understood very well indeed! Well, tough luck, because now Abi and her colleague Tara have him and Carl by the balls. He is manacled to the floor on his hands and knees and he's completely helpless now. Jack is forced to obey their orders from now on and treat them with dignity and respect that these ladies deserve.
In the last, sixth episode of this series we see a bunch of young and clever female psychology students who have come up with a weird but brilliant idea – to sexually tease the sportsmen by showing them some pornographic videos and then to play with their genitals until the men's penises are fully erect and throbbing with wild desire. Well, these dumb quarterbacks are totally in these women's hands now, totally restrained and feeling utterly helpless but still very horny. Their mind is bent on one thing only – to get off as soon as possible. Unfortunately, they are unable to stimulate their genitals with their own hands because they are restrained by their wrists and ankles. Although they are highly sexually charged and extremely horny, these men are actually in an altered state of mind where their common sense and judgment are clouded and they can't help but feel only hate for each other. How sad!
Meanwhile, the women psychologists are completely unfazed by these men's troubles and, while sitting on chairs in that room, they meticulously continue to make notes about their impressions regarding the men's states of mind, their attitudes and verbal expressions of anger.
Click here to watch their entire adventure in HD quality at CFNM TV!
CFNM TV is a brand new site from the creators of sites such as CFNM, Brutal Tops, Breeder Fuckers, The Casting Room and CMNM. If full-length videos of hung masculine men being dominated by beautiful horny women turns you on, you're certainly going to enjoy this site. It is actually the video site specific CFNM site that's made especially for those who prefer videos to photo stories.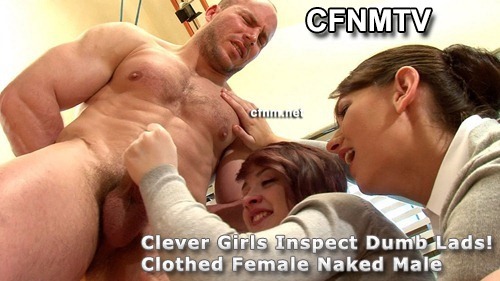 :Abi, american football, anger, beefy, Carl, female domination, female physiotherapists, female psychologists, footballers, humiliation, inspected, Jack, massage, muscled, observation, spontaneous erection, straight men, tied up