by Ben Daniels (Admin) on May.05, 2018, under Bentley Race
Bastien is a 27-year old Spaniard with a nice beefy and totally hairy body! He had done some nude photoshoots earlier for a different company but he's always keen to do more. It's not easy to find guys who have a hairy body like Bastien. His chest is like a furry carpet, his legs are very hairy aswell, and of course he sports a full thick beard.
This is his second photoshoot for Bentleyrace, which was made on the Ben's roof top (Ben from Bentleyrace, not my rooftop). Bastien put on some football gear and started to take off his clothes under the sun. He is already nicely tanned – Spain is usually very sunny in Summer. Then he and photographer Ben go inside and Bastien sits onto Ben's face, while the camera keeps shooting a hot video. Little by little, Bastien approaches the point of no return and shoots his load very close to Ben's face.
Click here to watch their entire video in HD quality at Bentley Race!
Bentley Race is a very cool site from a cool guy from Down Under. He manages to find some really interesting and hot amateur men that often cannot be seen anywhere else. These guys are real amateurs and rarely become high profile porn stars. They're all natural and many of them are truly straight. Do check out BentleyRace!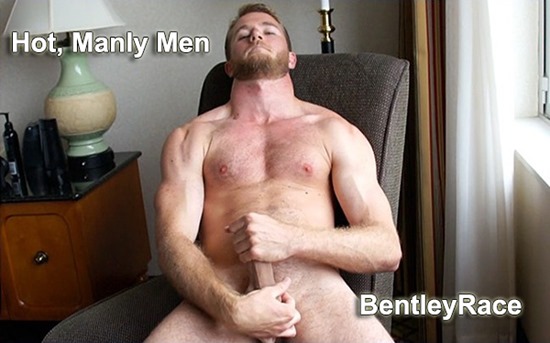 :Bastien Passiff, beard, cumshot, hairy chest, hairy legs, nice cock, spanish men