by Ben Daniels (Admin) on May.23, 2015, under Brutal Tops
Cruel Master Jake is not done with his new sub boy called Elliott. The poor sub still needs to learn respect and proper attitude towards men who are more masculine than him. Master Jake enters the toilet where his sub boy lies on the ground and carries a cane in his hand. Several sharp blows are delivered so the boy starts paying attention. Master Jake puts on a restrictive collar around Elliott's neck so as to restrain his movements. Then he gives out the order: "clean that fucking toilet bowl!"
Master Jake keeps spouting obscenities and puts down Elliott whenever he can. He puts his black boots on Elliott's diminutive soft cock and makes it abundantly clear who's the boss. If Elliott wants to earn Master's respect, he is to clean his boots with his tongue and then to impale his ass on the big dildo which causes his ass to stretch beyond its former limits.
Now the Master wants to take a piss. He whips out his cock and starts urinating directly into the pathetic sub's mouth. The little sub boy is forced to swallow master's piss, and whenever he tries to evade it the master hits him with the cane hard. Master finds the whole thing rather exciting, and we can notice that his dick quickly grows to its full size. Now the pathetic sub is given the next order: "Suck my dick clean!"
Master Jake now wants to see if Elliott has understood the lessons properly and forces him to walk around the room on all fours while that big dildo is stuck in his demolished ass.
Download this one and many other horny new BDSM videos at BrutalTops!
Brutal Tops is a fantastic site for lovers of the most ferocious sexually aggressive doms in the world. These dominant men love to give orders which have to be obeyed!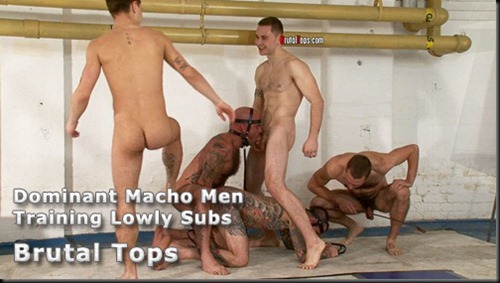 :BDSM, beaten, boots, caned, dominant men, domination, Elliott, forced blowjob, golden showers, humiliation, master Jake, piss swallowing, toilet scene