by Ben Daniels (Admin) on Mar.05, 2019, under CFNM TV
Cocky masculine Russian businessman Yosef Belozerchev has encountered an unplanned obstacle on one of his plane flights. Namely, curious female customs officers at CFNM Border Squad decided to stop at random the first guy who looked "suspicious"… and Yosef fit in the description nicely. Yosef is made to take off his clothes and stand there in the public place completely naked! The women don't care that he's exposed to the curious passengers who ogle him as they pass by. They also don't care if Yosef will miss his next plane and take their time to systematically examine this prime specimen of hot male beef.
Of course, Yosef protests and points at his clock to emphasize he might miss the plane, but the women don't care. These stern females enjoy having full authority of the law, and Yosef is aware of this unpleasant fact. Virginia discovers some banned objects in Yosef's case and decides that Yosef must be subjected to a full body search. Yosef realizes that he just might do better if he complies with Virginia's demands. She starts touching and examining his considerable fat cock with a mushroom head, allegedly trying to find "suspicious bulges"!
Virginia is still suspicious about hunky Russian businessman Yosef, and wants to make sure he isn't trying to smuggle something really serious through. But even when her assistant Daniela helps by examining his anus, Virginia is still not sure that he's clean. The women decide that they shouldn't rush things and just take their time and examine Yosef very thoroughly. As unpleasant as the anal probing is, Yosef gets really bashful when his cock spontaneously becomes rock hard from all those women touching his body! That's when he realizes that these pervy women will stop at nothing to get their daily fix of a hard man's body such as his.
Click here to watch their entire adventure in HD quality at CFNM TV!
CFNM TV is a brand new site from the creators of sites such as CFNM, Brutal Tops, Breeder Fuckers, The Casting Room and CMNM. If full-length videos of hung masculine men being dominated by beautiful horny women turns you on, you're certainly going to enjoy this site. It is actually the video site specific CFNM site that's made especially for those who prefer videos to photo stories.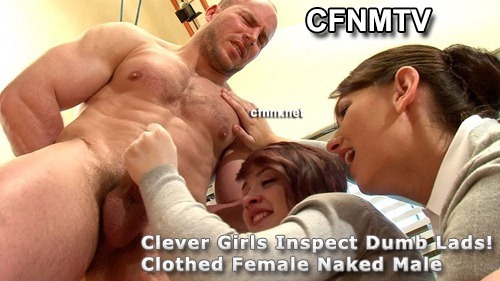 :Anal Probing, beefy, big cock, customs officers, examined, manly men, mushroom head, pervy females, shaved head, straight men, stubble, thick cock, Yosef