by Ben Daniels (Admin) on Apr.16, 2019, under CumClub
Chad is a sexy and beefy construction worker who spends most of his time outdoors. That's the reason for his delicate farmer's tan, which makes him even more sexy. Chad's body looks great with all those hard muscles, so you can imagine how thrilled Aaron French was when he heard that Chad was coming over for a blowjob.
In the short introductory interview Chad tells us a little bit about himself, his interests and his past career as a bouncer at a famous local female strip club. Aaron then approaches, gets on his knees and starts rubbing Chad's crotch through his shorts. Chad's cock is a quick responder and it got hard in mere seconds! Aaron takes off Chad's shorts to reveal his cock in its full size and glory, and then begins with the blowjob.
Chad throws his head back when Aaron gets down to business at full steam. Chad's cock gets really rock-hard and quite thick! Aaron makes a comment that Chad's dick is really quite big and thick, and Chad just replies with, "you like that big cock?" Chad is obviously enjoying the blowjob.
Aaron devotes due attention to sucking Chad's balls, and then focuses on Chad's ass as well. Aaron tried the "assault" with his tongue without any prior warning, and his first attempt was a no go. Chad was just too ticklish and giggly, and he tells Aaron that nobody ever licked his asshole like that. He promised he would try that another time, though.
Aaron goes back to Chad's cock, which Chad fully approves of! Chad loves getting a good blowjob. Actually, he tells Aaron that that is the best blowjob he's had in years. Chad asks Aaron if he's down for some face fucking, and of course Aaron gives it a thumbs up immediately. Some hot decisive thrusts from the big beefy guy ensue, and Aaron's mouth now gets really worked over! Aaron even gags a bit from Chad's massive tool.
After some time, Chad got really desperate to shoot his load. He sat back and let Aaron go to town on his cock. Aaron greedily slurps up and down on that big dick, and then Chad says he's about to cum. Chad shots his load and Aaron swallows up all the man juice.
Chad told us then that he's had a very limited experience in getting blowjobs from other guys, and that that was the very first time that another guy had sucked him off to the point when he shot his load. That was the first time that a guy swallowed his load, too. He said that was amazing, and he was eager to do it again!
Preview video:
Click here to watch or download their entire video in HD quality from CumClub!
Cumclub is a brand new site from the same guys who used to make sites such as Suckoffguys and Barebackplace. Now they are back with brand new site Cumclub and they will continue to showcase their blowjob and cum-related adventures as they travel all around the country.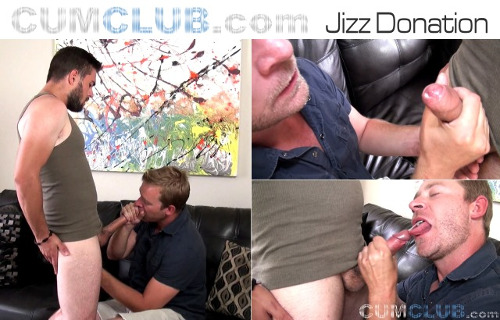 :Aaron French, blowjob, chad, construction worker, cum eating, cum swallowing, face fucking, gay for pay, licking balls, muscled, ripped, straight men, sucking off