by Ben Daniels (Admin) on Apr.27, 2019, under TheGuySite
Let's take a closer look at these two very masculine and muscular straight guys: Jax and K Rage. I love these outdoor videos with ripped guys, they're all so fine and look irresistibly hot while running buck naked against the backdrop of the amazing scenery!
Jax is a 30-years-old ripped masculine stud. He used to be in the Army some years ago, and now he's happy to show off his manly assets for his fans. He has no tattoos, and his body is mostly smooth with some hair here and there. He's obviously in great shape and looks great. His cock is cut and pretty big and thick. He enjoyed jerking off in the woods, and he hopes you will enjoy watching him as well!
*****
K Rage is a muscular 20-years old hunk. He used to play football in high school, and he also trained mixed martial arts (MMA). He demonstrates some of his MMA skills while running naked at the beach, and then we can watch his interview inside. K Rage jokingly asks the director whether his asscrack is hairy enough for him.  His cock is very nice, thick and long, and it stays hard throughout the entire video. He has a positive, funny personality. He's happy to be in front of the camera and have the opportunity to entertain people with his jerkoff videos.
Jax in the woods
K Rage – Beach Day
Preview videos:
Click here to watch their entire videos in HD quality at The Guy Site!
The Guy Site is a great destination for all lovers of amateur, "next-door" type of guys. These guys are not "pretty-perfect", they look more like your next door neighbor, but just because of that they are more authentic and hence more realistic!
When you go and walk around your neighborhood you're more likely to  meet one of these hot "next-door" dudes than some perfect bodybuilder. That's not to say that there are no bodybuilders on The Guy Site, but even they are amateur types. That's why I really like The Guy Site. Certainly worth checking out.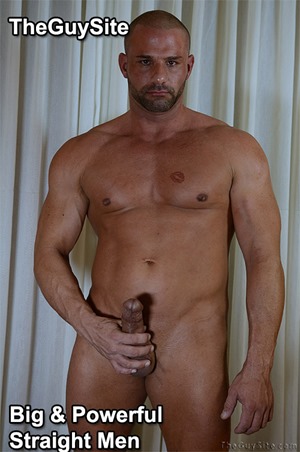 :beach, big biceps, Jax, jerking off, K Rage, military men, MMA fighter, muscled, naked in the woods, nature, ripped, smile, straight men