by Ben Daniels (Admin) on Apr.29, 2019, under CMNM
Footballer Freddie is a walking testosterone machine. He walks with a swagger and craves attention. In those moments of fanciful daydreaming, Freddie pictures himself as the start of the team, and everyone respects and worships him. When he heard that the coach has just recently fucked his new teammate Danny and filled his ass with his cum, Freddie was envious as fuck and the thought of something like that made him turned on and horny as hell. The desire to get fucked by the coach has completely consumed his mind and his cock is already leaking precum. Unfortunately, stern Coach Dave seems to be strictly business-like when he's around him.
Scene 2
However, Freddie doesn't give up so easily. He behaves like a teasing slut and begs the coach for the attention. He asks the coach if he could get a massage. The very thought of that massage makes his dick rock hard in no time. Freddie thinks that the fact he's the football captain should give him some privileges like that, but the coach disagrees. The coach thinks that Freddie's impertinence calls for a lesson in patience. The coach always tests the new players by shoving his cock into the new player's arseholes, and only then can these players have special privileges. Freddie soon discovers how the other players got officially inducted into the team!
Scene 3
The management of Mancastle United Club thinks that discipline is absolutely necessary for every great athlete, and they've discovered that the most efficient way to keep their players in line is with the use of regular and viciously hard fucking! Freddie thinks highly of himself, but now this once proud footballer gets bent over by the coach and gets royally fucked in the ass! There's no doubt that Freddie's wife will wonder why her husband is limping when he gets back home. As the tears stream down his face, Freddie decides to take it all like a man. And then again, who knows, maybe there's some silver lining in all this!?
Scene 4
Freddie had been both looking forward and feared the day when he would be initiated up his arse like the other lads on the team. He had admired the coach so much and wanted to feel his seed inside himself. But now, when Chairman Adrian entered the room and joined the fun, things seem to be totally out of control. Taking stoically Dave's cock was already a big ordeal, but now both the coach and the chairman are fucking him with wild abandon. The young married soccer star is slightly confused while he's taking both cocks, but at the same time he starts to kind of like the feeling of being used by these two strong older men.
Check out these pervy men's wanton adventures in their whole videos in HD quality at CMNM.
Clothed Male / Naked Male (CMNM) is a hot porn site where Nervous straight guys get stripped naked, groped and violated by fully clothed men.
There's nothing better than stripping straight lads completely nude, putting their bodies on display, and teaching them exactly how to submit! When they are in such a submissive position, one would be crazy not to use the opportunity and jerk them off.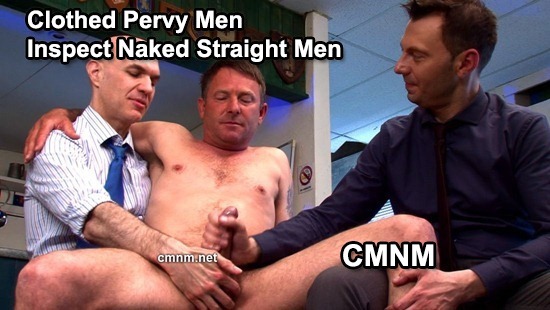 :big cock, blowjob, Chairman Adrian, Clothed Men, Coach Dave, cumshots, footballer, Freddie, fucking, initiations, locker room, married men, naked men, Nude men, photostory, soccer player