by Ben Daniels (Admin) on May.02, 2018, under CMNM
In the previous episode of this rugby team's antics (you can check it out here) we saw two clothed members of the team management giving a professional massage to Matt, one of the main players in their team.
But since Matt's teammate is also taking a shower at the moment, the chairman and secretary of the club think that it is in the best interests of their club to give a professional massage to Matt's teammate, as well.
This guy is a tall athletic stud, and his strongest power comes from his haunches, which is also the area where where most of the tension accumulates.
The clothed members of the team management bring special focus to his glutes and crotch area, but from time to time their fingers also slip a little into his ass, too. The big boy does not complain, and his dick quickly grows to its full size. The two members of the team management can do nothing else but provide a much needed helping hand. Of course, all this is being done only in order to relieve the players' tension and to further the best interests of the club.
Check out these pervy men's wanton adventures in their whole videos in HD quality at CMNM.
Clothed Male / Naked Male (CMNM) is a hot porn site where Nervous straight guys get stripped naked, groped and violated by fully clothed men.
There's nothing better than stripping straight lads completely nude, putting their bodies on display, and teaching them exactly how to submit! When they are in such a submissive position, one would be crazy not to use the opportunity and jerk them off.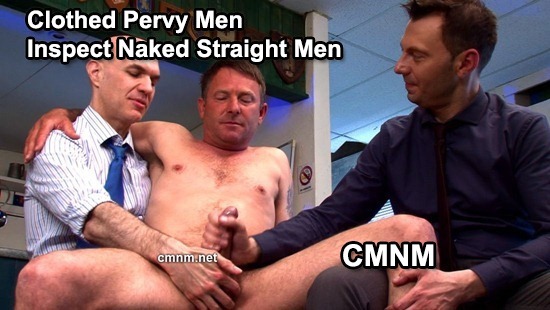 :Athletic body, helping hand, massage, muscular, rugby player, sportsmen, straight guys, strong legs