by Ben Daniels (Admin) on Jul.04, 2019, under Island Studs
In this update from Islandstuds we will get to know better well-known porn star Owen Michaels. Of course, we have all seen him as a performer many times, but in this special interview we get to know the REAL Owen Michaels. He is confident, always has a smile on his face, loves to joke around and tell private personal stories. He'll also tell us more about how he got his nickname in the 5th grade, the brand of his favorite body soap, his entry into the Adult business when he was just 19, the favorite porn star that he fucked, the favorite cock that he sucked, his most painful bottoming gangbang scene, as well as who he likes to fuck privately, in his real life.
As is usual for Islandstuds, we also get to watch the Interviewee doing some things that he had never done prior to that moment. Namely, pissing outside in the garden, pumping iron while fully naked and sporting a boner that slaps against his thighs, and shooting massive explosive streams of cum that end up on his face and even go straight into his mouth! Then we also get to watch him cleaning and scrubbing his big manly feet in the shower.
Curiously, although he has made over 70 porn films so far, Owen had never been recorded with his real natural untrimmed body hair! How unusual and unfair! Thankfully, the guys at Islandstuds made sure to correct that error. His bush of pubic hair is now visibly surrounding his always hard dick, and a patch of strawberry blond chest hair can be seen between his pectorals and furry belly. There's also a Happy Trail that goes from his navel down to his bushy ginger cock!
I think we can agree that this little horny stud has never looked better in his life. He's now 23 years old, stands at just 5'5" (165 cm) and packs about 180 lbs (82 kg) of hard muscles. His biceps measure about 17 inches in circumference, his back muscles are strong and his well-known bubble butt shines in its full glory while he's spreading his ass cheeks three times in this video to show us his perfect manhole!
Basically, this entire conversation with Owen was led as a spontaneous, behind the scenes interview, which also includes a naughty cock-stroking session. The former porn star now lives a very private life in the sunny Pacific Northwest (where this video was made). He came wearing a big wrist watch and the street clothes that he usually always wears: tight skinny jeans that accentuate his thick athletically built thighs and his big muscular bubble butt, and a tight red gym tank top. Owen is an avid gym rat, and he loves to show off his hard muscles even when he's fully clothed, but also when he's wearing only his hot red Diesel undies, and, of course, when he's fully naked and with that big pulsating hard dick of his that always stands at attention!
Owen also explains the two famous Star tattoos on his chest, the reason why he hasn't married and got children yet, how he filmed his first guy on guy scene, bareback fucking with both men and women, why he says he's 99% straight. Owen works out, poses, flexes his muscles and pumps the iron demonstrating how one of his usual full gym sessions would look like. He shows us his thick biceps, strong upper back and then lifts heavy weights and works up a sweat. It was sunny and hot outside in the sun and it's no wonder this horndog soon became horny and his dick got hard!
Owen then grabs his massive ass cheeks with both hands and opens wide his manhole! Now that's an ass worthy of worship! Imagine meeting Owen Michaels as your personal workout trainer, but he insists on working nude! Then, as promised, we get to watch Owen going to a bright orange 5 gallon bucket on the deck in the sun and takes a long pee that splashes into the plastic bin. His cock is now fully hard and he takes the barbell and starts working out while his cock remains hard. After some more time, Owen decides he needs to take another pee, and this time he hangs his cock between the balcony and takes a piss in the forest while continuing to talk with the camera.
After the workout session has been performed, Owen decides it's time to let off some steam by stroking that big cock of his. He sits down on a sofa in the Mountain House and strokes his cock passionately. He uses both slow and fast strokes and continues to show off his ripped body for the camera. Little by little, our spunky stud approaches the point of no return, and that achievement is crowned by the most spectacular cumshot we've seen in a while! It seems the cumshot surprised even Owen himself. He closed his eyes, opened his mouth and five well-formed streams of warm jizz were ejected from his cock, flew all over his body and landed on his face. Some of it went straight into his open mouth, and some of it landed on his furry torso! Who would have expected that? Owen Michaels accidentally feeds himself his own cum!
Then we get to watch his soapy, messy shower scene. He lathers up his body and still hard cock with soap. He spreads his ass cheeks again. And then he devotes the due attention to his big manly feet as well. Feel lovers will have lots of fun with this part for sure. The Real Owen Michaels is a real treat for all lovers of this sexy ripped porn star, and is not to be missed!
Preview video:
Click here to watch his entire movie in HD quality at Island Studs!
Island Studs is a great, new, and refreshing porn site that features hot guys from Hawaii. These bad boys have no problem with showing off their beautiful, toned body and hard cock. Watch them as they do their usual chores against the stunning backdrop of Hawaiian nature!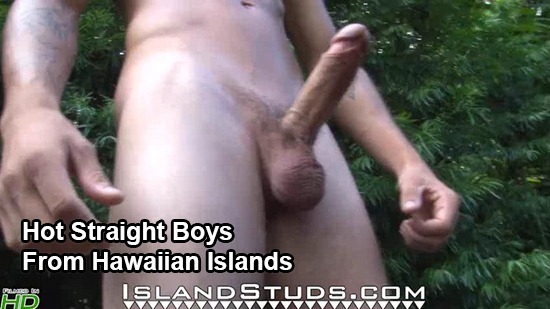 :beard, big biceps, bubble butt, hairy chest, interview, jerking off, muscled, nice cock, Outdoors, outside, Owen Michaels, porn star, ripped, shower scene, spreading asscheeks, straight men, taking a piss, working out