Big Dick Derek is finally back! After many requests from the fans this beefy, extra-hung Lumberjack is back to show off more of his manly assets. This is Derek's third appearance on Islandstuds, and he was again quite happy to show off his scruffy bearded face (along with that big friendly-daddy smile), massive muscle butt, athletic thighs, hairy armpits, full bush, hairy 8-pack of abs, big powerful biceps, and of course that amazing 8-inch hard cock with a glorious mushroom head!
This time, too, he participated in the so-called garden chores where he demonstrated his skills such as climbing a tree with his saddle and climbing gear, cutting down some tall Hawaiian Palm trees with his chainsaw (with his balls fully exposed, wearing only a baseball cap and work boots). He proudly walks around with his 8-inch fully erect upright cock, and then takes the first of his two powerful pisses, all the while flexing his muscles. He cleans up the shower, kicks back on a sofa outside and proceeds to wank his cock and play with his balls. After quite a bit of manhandling his belly slapper and massaging his balls, Derek lets out several powerful moans and then shoots his creamy load of warm cum all over his hairy body. Still covered with cum, Derek heads straight to the shower and starts soaping up his muscular body, big hairy butt and cock and balls while still keeping his big daddy smile! He uses this opportunity to show off his amazing butt by spreading his ass cheeks wide open. We get to see his bright pink virgin staight manhole in all its glory! One more big friendly smile into the camera, and then he takes another powerful piss while standing in the shower.
Derek is still 27 years old, his height is 6'2" (188 cm) and he weighs in at 210 lbs (95 kg). Derek was in a great mood throughout this entire shoot and kept telling us a lot of his personal stories about growing up in Colorado with his 3 Brothers, as well as working with his Father in the Family Tree Trimming Business. The whole conversation between Derek and the director is quite spontaneous, as if it were a behind the scenes video. The down and dirty cock stroking session was raw, unscripted and super hot. There's really something in having a truly masculine ripped blue collar worker totally naked and stroking his huge fat cock in front of you!
"I like being free and being myself!" Derek explains when the director asked him why he keeps returning to model only for Islandstuds and not for the other studios. Derek is also known for having recruited several new models for the site. In case you missed the "Jerkin' Roommates" duo with Derek and his rommmate Tony (a hot Italian handsome boy), we suggest you check it out as soon as possible. Roughstraightmen has featured that update not long ago and you can see it here.
Derek then continues with telling us about the first time he had sex at the age of 15, and how the girl he slept with was amazed at the size of his cock and kept telling all her friends about Derek's massive cock! Derek adds with a grin, "It was good advertising. Then random girls wanted to Suck My Dick!" Derek is pure All-American Beefcake, a real Lumberjack who proudly walks to show off his hot muscular body that he got from years of playing football and working as a full time Arborist, climbing and cutting down trees. If you want to see his very first video, which was shot only one year ago, we urge you to check that out as well. It's available in the Islandstuds archive, and we at Roughstraightmen have also featured it here.
For this video, Derek arrived wearing a tight pair of grey shorts and a T-shirt. He quickly got rid of his clothes and the only thing that was left on his body was a very tight black jockstrap, which was not barely able to contain his hefty thick cock and balls! His ass looks meatier than ever, really muscular and strong. Derek jokingly says, "My jock helps keep everything together when I work." Derek admits he's very often horny, and to prove this, he whips out his cock out of his jock and within a few moments of stroking it, it is already hard! He keeps flexing his powerful biceps, while his cock is pointing straight to the sky! Derek says that he is very proud of his body, and that his thick dick is already famous and legendary among the ladies.
For the purposes of the popular Island Stud's "Naked Worker Series", the director instructed Derek to work on cutting down tall 40′ Areca Palm Trees, while being totally naked in the sun! Nothing beats the sight of a hot masculine blue-collar worker walking around sweaty and nude with his noisy chainsaw and wearing only his work boots. Derek demonstrated to us the way he usually works, and he didn't mind when his sweaty body and cock got covered in sawdust and leaves from the trees. He almost forgot that there was a camera that was recording him all the time. Then, Derek puts his bare ass on the cement steps of the shower in the sun and takes off his work boots. He proceeds t take the first of 2 sexy shower scenes, using the already legendary Island Studs' "outdoor gang shower" for this purpose. It's really hot to watch him soaping up and cleaning his muscular, beefy body. It starts to rain a little, and soon enough, Derek gets horny again and works his 8-inch cock into a full towering erection, then proceeds to take a long walk with his boner bouncing. He gets on a bench in the garden and lets out a powerful "hands-free" piss onto the ground! His keeps flexing his both biceps while the golden shower is hitting the ground. His body gets wet from the rain, but Derek keeps taking a piss on the ground. It's not very common to see a naked muscular man taking a piss in the rain, is it?
Still wet from the rain, Derek settles on the same sofa where he jerked off with his roommate Tony, because he needs to unload. His erect cock is a sight to behold – 8 inches of thick, towering throbbing beauty! Check that out, it's fantastic! Derek is not a shy person, and he definitely enjoys in showing off for the camera. He loves to flex his muscles and to pose with his big, fat cock which stands upright like a fucking rocket! Of course, he was eager to put on a great show while he jerked off. Derek's explosive cumshot was caught on film with 3 different cameras, and from 3 different angles, so you can see every squirt and every drop of it! After he cums, he stands for some more photos, while the jizz keeps dripping and oozing out of his belly and still hard cock. He swaggers along the pathway to the outdoor shower, with the jizz still dripping from his cock and stomach, and then proceeds to soap up his body with a soap and to apply shampoo on his hair and beard. Without any prior announcement, Derek turns his big butt to the camera, bends over and starts to soap up his ass crack while keeping his face between his legs. He opens his ass a bit, and then soaps up his asshole! Then, he grabs his muscular ass cheeks with his manly hands and pulls them Wide Open! That's a rare opportunity to see that well-hidden, well-preserved pink virginal manhole! And just when you thought it was over, Derek has another surprise for you – while holding his bath towel he releases another powerful pee! A strong stream of yellow piss is powerfully ejected from his mushroom cockhead and then it splashes onto the cement shower floor between his big feet!
We highly suggest you check out this update from Islandstuds with big masculine Lumberjack Derek, as well as his previous appearance with Tony, as well as his previous solo jerkoff sessions!
Preview video: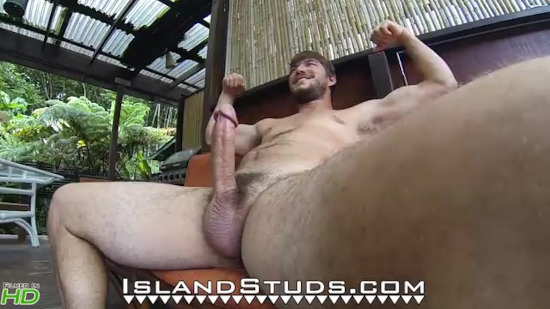 Click here to watch their entire movie in HD quality at Island Studs!
Island Studs is a great, new, and refreshing porn site that features hot guys from Hawaii. These bad boys have no problem with showing off their beautiful, toned body and hard cock. Watch them as they do their usual chores against the stunning backdrop of Hawaiian nature!