It's my pleasure to introduce a new site that has partnered with Men.com recently – the Tom of Finland foundation. Illustrator Touko Valio Laaksonen (1920-1991), better known as Tom of Finland, is widely known in the gay community as one of the fathers of modern-day gay pornography. He is well-known for his highly masculine, homoerotic artwork. It's difficult to overestimate his influence on the gay community. His art has served as the first introduction to gay sexuality for entire generations of men.
Each episode of the series will be directed by a different artist, and all of them will be based on an anthology series that is inspired by the classic works of Tom of Finland. The first three episodes are based on his classic works, while a contemporary scene is set in 2020. The final episode will be taking place in the future, a kind of re-inventing Tom of Finland for a new generation of men.
In this first installment of the series, we go back to the early days of Tom's work in 1957. Birdwatcher Theo Brady in in the nature when he suddenly spots a hot fisherman (Kurtis Wolfe) through the trees and manages to take a few pics of him. He is so horny he can't control his urges and has to whip out his big cock and begins to stroke it while still watching the handsome studly fisherman.
Kurtis notices the watcher and before you know it, Theo is on his knees and sucking Kurtis' cock. However, there's a piercing sound of a siren, and Theo and Kurtis are forced to stop their little action while police officer Matthew Camp goes through the woods with his nightstick. Theo is totally shocked when he notices that Matthew is eating Kurtis' ass and fucking him doggy style. The bashful watcher keeps taking photos of Kurtis riding Matthew's hard cock, and then decides to join in the fun! There's some hot double penetration in this video, as well!
Preview video: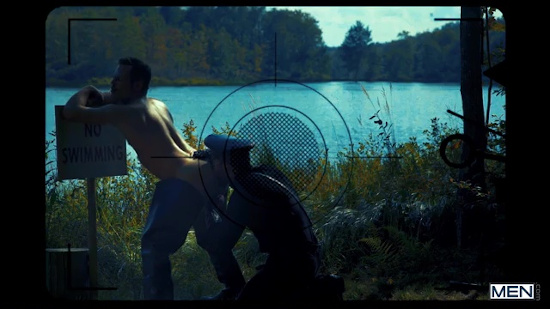 Click here to watch or download their entire video in HD quality at Men.com.