Today we're going to take a closer look at an amazing blowjob with Brad, a superhot personal trainer from up north. Beefcakehunter's owner Victor invited him to visit him at his headquarters to get a free blowjob (and actually to make money from it). It was around New Year's time and Brad was in the mood for some new adventures, new things to try in life.
As it turned out, Brad missed his flight and arrived a few hours later than planned. Perhaps that's why he was so nervous, but Victor (the cocksucker) was super motivated to ease him down. The cocksucker got down to his knees and was eager to explore Brad's awesome body with his hands. Whether due to nervousness or something else, Brad suddenly stood up and Victor's only choice was to focus on Brad's underwear, and the goodies therein! When Brad's cock grew somewhat hard, Victor pulled down his underwear to reveal a delectable pair of balls and a yummy, thick dick that's almost made for sucking!
Licking alongside those big balls Victor could feel and taste that they were full of at least one week's load. Cautiously, Victor put Brad's cock in his mouth and started to slowly suck it when it was semi-hard. Brad unexpectedly took charge and started to face fuck the cocksucker. Having had plentiful experience with big fat cocks, it was not so hard for Victor to deepthroat that huge dick right off the bat! Within seconds, Brad's cock became super-hard and he grabbed Victor's head, pushing it onto his swollen manhood forcefully, to the point of chocking the happy cocksucker.
Face fucking is one of the most loved specialties of Beefcakehunter, and normally Victor would not have protested, but he wanted to savor that amazing thick cock more slowly, so he told Brad to sit down. By this time Brad got relaxed a little, and then he put his big muscular arms behind his head, half-closed his eyes and just kept watching the blowjob in progress.
Brad didn't actually talk too much, but when he did he was really specific and pointed out that he really liked getting deep throated. At one point he pushed Victor's head all the way, till the base of his cock touched Victor's lips. That's when Victor told him to stand up again and continue to face fuck him like he started in the beginning. And that he did, Brad began to face fuck the cocksucker, which was really sensual and sexy to watch, and then without much prior warning he shot his load inside Victor's mouth, and the rest of the load all over Victor's face. That was a truly awesome load! Brad kept fucking Victor's face even a few seconds after he came. This is a great blowjob video, with a super hot stud and some amazing shots of deepthroating, face fucking and cum swallowing – check it out on BeefCakeHunter!
Preview video: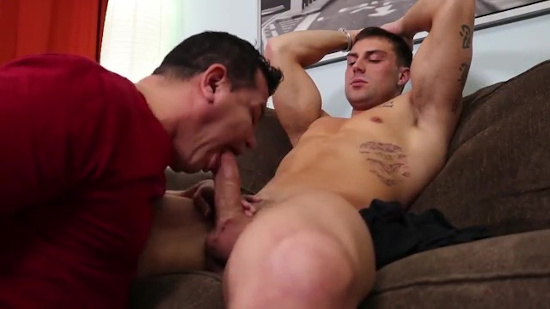 Click here to watch or download his entire video in HD quality at BeefCakeHunter.