It was a cold, depressing morning at the BeefcakeHunter headquarters. Luckily, Edward was on his way to the BeefcakeHunter Studio, bringing his positive vibes with himself. "This is just what doctor had ordered", Victor thought to himself.
We hadn't seen Edward in a few years time, and it was high time Victor invited this rough straight man again for some serious dick sucking. Edward is currently in a stable relationship that has lasted for over a year, and now he sports a new look with the full beard, which gives him a really masculine rough appearance. This rough straight daddy definitely made all the right wheels turn in Victor's mind!
It was difficult for Victor to abstain from kissing this hairy straight man, especially his hairy stomach. And when it was time for Edward to reveal his mythical huge thick cock, you couldn't find a more happy person than Victor in the whole galaxy!
Victor has a thing for hairy muscular legs as well, so you couldn't stop him from kissing and worshiping Edward's strong legs even if you wanted to. That big thick cock was too much of a temptation for Victor! And when he finally got around to take care of it, you could tell that he was on the 7th Heaven! Not only was he worshiping that Big Tool, but also Edward's big balls. Edward was much more laid-back this time, as he was more in tune with what was happening to him – and he responded accordingly.
Edward is a very potent and sexual man. As soon as his underwear was removed, his huge thick cock was already rock-hard. This straight stud is always ready for action! Edward was also more verbal than in his previous appearances, he moaned and gasped more much more than before. Needless to say, this turned on Victor a lot and he couldn't stop kissing Edward's body everywhere repeatedly. After giving the due attention to Edward's cock, Victor finally turned to Edward's face and started kissing him.
It's really obvious that Victor had been missing that huge thick cock quite a lot in the previous years, so it's no wonder that he devoted a lot of time to worshiping it. Victor positioned Edward on the chair and told him to lie down there. Then he used a split screen to show us better all the action and to emphasize Edwards hairiness and his huge manhood.
Worshiping Edward's body is the name of the game in this video, so Victor did not skimp on the kisses, and went over Edward's body worshiping it at least twice! Edward was proactive and started to face fuck Victor in a big way. You can tell that both guys were really sexually excited and into each other.
Then it was time for Edward to stand up. Victor got on his knees and opened his mouth wide. It was only fair to show full obedience and submission in front of such a powerful masculine man. Edward kept on fucking Victor's face, and looking down at him from above. Nothing makes the cocksucker more aware of his position than a huge hard cock in his mouth and the man looking at him intently from above. The only thing that was brewing in Victor's mind was how to receive Edward's load, which we all know he wanted so badly!
After several minutes, Edward did deliver his load and sprayed his jizz all over Victor's face. Victor says that Edward's cum smelled very fresh! Then Victor decided to go for the last kiss, at least the last one that you can see in this video, and you can see it from several angles. That was one pretty hot and intense blowjob session!
Preview video: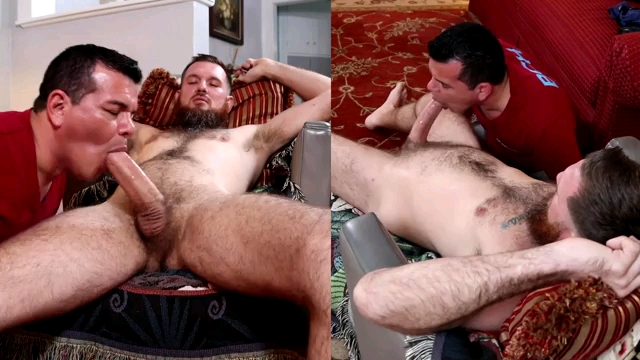 Click here to watch or download their entire video in HD quality at BeefCakeHunter.