Can there be anything more sexy than a handsome, hairy straight guy? Hardly! Beefcake Joe fits the bill perfectly, and Beefhunter Victor was understandably eager to get his hands and mouth on Joe as soon as possible.
Beefcake Joe works as a landscaper, and he has been in the business since his young age, working at his dad's Landscaping company. Unfortunately, they were a victim of a big, organized theft which virtually put them out of business. So, Joe was forced to apply for job at a different company to support himself. Meanwhile, Joe found BeefcakeHunter's ads in the local papers and thought that getting paid handsomely for a blowjob is not a bad idea at all. Every little helps, when it comes to money these days, and Joe is also a big lover of good blowjobs. This might also help him start his own business soon.
Joe was pretty upfront with Victor during their first chat, and shared with him quite a number of details from his life: the good, the bad and the ugly. It doesn't happen too often that a new guy will open himself to a stranger, and it's something that has to be appreciated. Joe comes across as a regular, easy-going, humble dude. He had had no experience with male cocksuckers previously, and he was shocked to learn that Beefcake Victor was big on hairy legs. He couldn't believe that man's hairy legs could be a major turn on for anybody… silly straight guys! It amused him so much that he started to laugh.
When Victor found himself between Joe's hairy legs, it was like a dream cum true. Joe saved up his load for at least 4 days, and Victor knew that those nuts hid a real treasure waiting to be unleashed. Joe likes to show openly how he likes and enjoys the blowjob, and he's pretty vocal about it, too. He was especially appreciative of Victor's amazing deepthroating skills! And there's quite a bit of deepthroating of Joe's big long dick in this video. It was hard for Victor to resist getting totally greedy for that lovely big cock!
Joe wasn't in the hurry and he didn't cum too soon. He let Victor feast on his dick for as long as he liked. Victor loved looking at Joe's massive cock from his perspective, and Joe's blissful face expressions were a total turn on, as well. Victor managed to put Joe to the edge when he started to deepthroat his cock, and Joe begged him not to stop. Victor wanted Joe's load in his mouth, but since Joe announced he would cum a little too early, there was quite a bit of gap between his warning and the actual time of his cumming, so Victor kind of missed it a little. Joe's cumshot was copious, with lots and lots of cum flying out of his amazing dick! So, it's quite a spectacle really!
The good news is that Joe is coming back to nail Victor's ass, which we are going to feature on this blog as well, of course!
Preview video: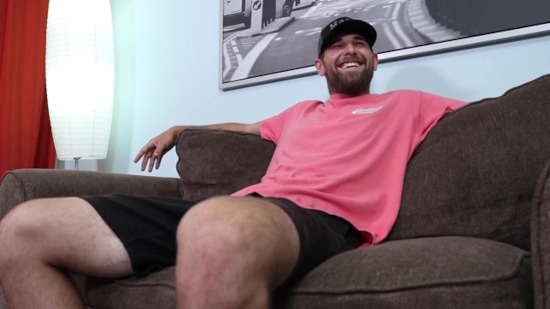 Click here to watch or download his entire video in HD quality at BeefCakeHunter.