by Ben Daniels (Admin) on May.16, 2014, under Manavenue
Martin Matousek is a very handsome, muscled young stud who agreed to come over to our place and do a jerkoff video for us. This smoking hot ripped straight man has a body to die for, and he proudly shows it off for us.
We find him standing by the window while he slowly touches himself, admiring his big, bulging biceps and perfectly hard chest. He still wears a sleeveless shirt and sports shorts, but after some more arms flexing he takes off his shirt and exposes his ripped chest for us. Some more muscle flexing and then he takes off his shorts. His cock is already fully erect and – damn – it's a really big, stiff dick. Just awesome! Were you expecting anything less than perfection in the dick department? Well, no unpleasant surprises there, that's for sure.
He is still showing us more his back side, we can also appreciate his well-built back and then we get to see his firm butt cheeks which he spreads a little and shows us his ass crack, too. His cock dangles and swings left and right. Then Martin starts walking around the room with his cock fully erect. This is the part I like the most about Manavenue's videos – you just can't beat the sight of a hot man with a big erect dick proudly walking around and showing it all off.
We can notice that his dick is slightly curved to the left side, which makes it look even hotter. He then starts stroking it, but keeps slapping and touching his muscles at the same time. Do straight men get excited by watching and admiring their own body? I think they do, at least some of them. It may not be the direct type of sexual stimulation, but the sight of a hard man's body is just so awesome that it pumps up the ego, and that's erection-inducing no matter what your sexual orientation may be.
Anyway, I digress. Back to Martin. He climbs on the couch and continues to jerk off his sizeable fuck stick. We get to see it from some very interesting camera angles. I especially like it when it's filmed from below, as it looks decidedly awesome with his big balls. Next, Martin stands up on the floor and continues to jack off while flexing his arms. We can see he's got pretty big thighs, too. Then he lies down on the couch again, there are some pillows supporting his back so he can jerk off from this more comfortable position. He starts playing a bit with his ass, spreading his ass cheeks, but he's a bit shy as far as that goes. Maybe some next time?
Martin continues to flex his biceps and sniffs his armpits. Then he stands up again, puts one foot on the couch to give us a better look of his  jacking off process, and continues to beat off like a madman.
Finally, he sits on the couch normally and starts beating off much faster. When he feels that the point of no return is at hand, he stands up again and shoots a rather big load – several nice big squirts of cum – all over his six pack abs. Martin continues to flex his muscles while the cum drips down his impeccable ripped abs and cock.
I am certainly looking forward to seeing this stud in action again and I really hope we won't have to wait long for his next video.
Preview video:


Click here to download his entire video in HD quality at Manavenue!
Manavenue is an exceptionally good porn website that features masculine, cocky, muscled, powerful straight men, the type of guys that grab your attention while you're secretly ogling them in the street or in a supermarket. These tough motherfuckers are aware of their sexual appeal and want to show you everything they've got.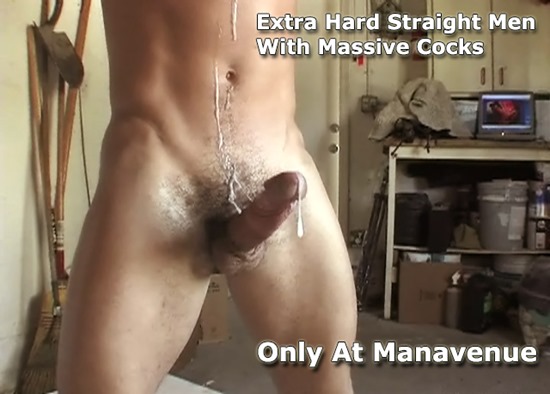 :big cock, Big load, curved cock, flexing muscles, handsome, jerking off, Martin Matousek, muscled, sports shorts, straight men, stud, walking with erection