These guys have come up with an ingenious idea to build a shack in the woods whose main purpose is to make it easy for them to get off and suck one another's cock. They call it "the suck shack", and it's pretty much in use every day, all day long!
Ray Han is one of the biggest fans of the suck shack, he loves to play with his big thick dick while he's awaiting for some of the local men to drop by and feed him with their seed. Today, Mike Tanner was the first to come to the shack. He was very horny and needed to dump his load. Thankfully, cock-greedy cocksucker Ray was on the other side of the wall. One cock is good, but two cocks are always better, so when local dude Renato Levy joins the party, it's even better and more interesting! Renato was also extremely horny and his cock badly needed to get sucked – dripping with precum and hard as a fucking rock.
Well, now that's more like it – two big cocks in Ray's hands, so now he can swap from one to another as he pleases. Ray is totally crazy about jizz, and he always wants to swallow every last drop of it from every man he sucks. First he takes Renato's load, then switches his attention to Mike's cock. Mike also feeds him with his semen, and then Ray strokes his own cock until he, too, shoots a nice big load all over the place!
Mike Tanner is a 41 years old man, and he has a toned, hairy and masculine body. Mike says he's always horny and loves to get his cock sucked. He's versatile in sex and is no stranger to getting his ass fucked hard, but he can also deliver a good hard fucking for any willing bottom, as well!
Ray Han is a 36-year-old guy with athletic body and very masculine look. He's very handsome and, by his own admission, he's pretty much always horny. His cock is uncut and can deliver some serious fucking for any willing bottom boy. Ray's favorite pastime is to suck big dicks and to fuck a tight ass. Sometimes, when he's in the mood, he likes to get his ass fucked hard as well. He's pretty much always on the lookout for other masculine men.
Preview video: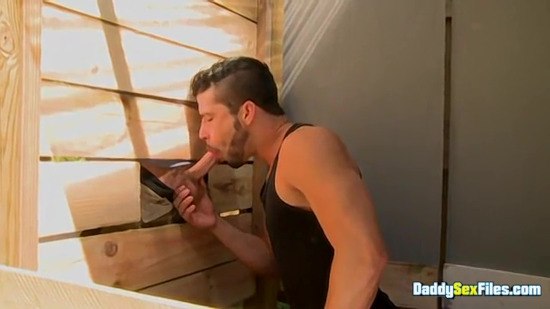 Click here to watch or download their entire video in HD quality at DaddySexFiles!