Landon Conrad and Phenix Saint have been good buddies for years. Phoenix broke up with his girlfriend some time ago and has been feeling a bit down lately.
At first Landon wanted to be supportive and all that shit, but then he realized that his buddy Phenix is a real man and doesn't need that kind of sensitive crap, but some good old hard fucking.
He's been eyeing Phenix's bottom for a while now, and today he proposed Phenix to bend him over and break in that ass at last.
First Landon offers his mouth to service Phenix's nice hard cock, then they switch to 69 and such each other off. Finally, Landon tells Phenix about his long lasting wish to fuck him. Phenix is somewhat confused at first, but then he acquiescences. After all, his buddy Landon is such a manly stud with a huge, thick cock that it's an offer which no sane person would ever refuse.
Preview video: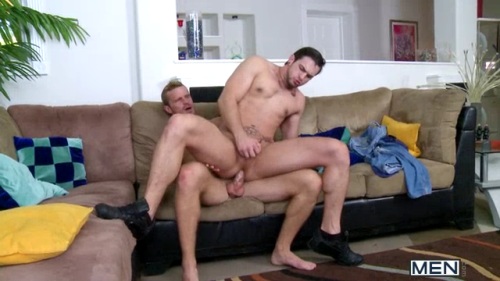 Click here to watch their entire video in perfect HD quality at Str8 to Gay!
Str8 to gay is a brand new site – a part of the MEN.COM family of sites – that explores situations when a straight guy is dissatisfied with his girl or wife. Would his gay buddy do a better job where his wife has failed? Of course he would!