Barrett is a very hot, 31-year-old straight stud who hails from Philly. He says he was working in a restaurant in Bronx when he decided to visit Hawaii for a holiday. As soon as he came to Hawaii he became enchanted with the place and decided to stay there forever. "The surf is just so good here", Barrett says with a big smile on his face.
Barrett is 5'6" (168 cm) tall and he weighs in at about 155 lbs (70 kg). He says he is of German and Italian descent. The Islandstuds director first met Barrett on a public beach while Barrett was surfing naked with his buddies. His huge thick cock was dangling in all directions and it was pretty clear that Barrett had to be invited to model for the site. The first photo shoot was scheduled for the very next day, and it was obvious from the get go that Barrett wasn't a shy dude. He quickly got rid of his surf trunks, grabbed his Orange bodyboard and took a nice long piss in the sand. It was great to watch that bright yellow piss shooting straight out of his half-hard dick and making a puddle in the sand between his powerful big feet. This straight dude is definitely an extrovert and feels free and at ease with his body.
Barrett now works as a chief in a resort. He was happy to explain to us the meaning of some of his tattoos. That "all-seeing eye" on his torso actually means that "he sees everything with his feelings". Barrett's whole body is pretty solidly built – like a fucking tank! His neck is thick, as are his powerful Snowboarder thighs. his strong, muscular butt is also a sight to behold. And, of course, how could we forget to mention that amazing, fat 8-inch Italian cock that always stands proudly upright!
Barrett doesn't hide the fact that he gets off on being naked in public. He has a definite exhibitionist streak, and one of his favorite things to do is to surf naked in Hawaii. We think it's very sexy to see such a well-built masculine guy with a fully erect huge fat dick walking leisurely naked on the beach and carrying his surf board into the warm ocean! Barrett wanted to show us how he usually walks along the beach, completely naked, in search for that perfect wave that he can ride with his trusty surf board. His firm, muscular butt is a joy to watch as he swaggers along the beach. We really enjoyed all the "straight guy talk" with this confident stud, complete with lots of joking and strutting his stuff in front of the camera. Although he's quite a confident and tough dude, at the same time Barrett emanates a friendly, charming smile and his laid-back personality is totally in sync with the ALOHA spirit of the Hawaiian Islands. After we have watched his long naked surfing session, Barrett sits on his beach chair and board and continues to walk along the beach in search for a more secluded and private place so he can finally devote due attention to his rapidly growing big dick.
Without an ounce of timidity, our proud straight hunk puts his chair into the sand by the forest, spreads his muscular legs wide apart, and starts stroking his big thick monster cock while allowing the pleasant warm sun to shine on it! The fact that there were also other people on the beach that might see him only made him more turned on! He stands up so the director can take some more photos while he's waving his powerful 8-inch cock in the direction of the other surfers who were swimming in the ocean at that moment.
This friendly straight dude loves to fool around with anyone who is willing to be with him. We really enjoyed his antics while he was trying to stick his cock through a plastic Pineapple, when he put a Santa Hat on his head or when he put two Hawaiian Leis – one around his neck, and the other around his cock – like a flower cockring! Barrett keeps stroking his cock and little by little he approaches the point of no return. He shoots his creamy load while still wearing the charming Hawaiian Leis. Then, he heads to the shower where he takes the second piss as well.
Believe it or not, Garrett didn't always know that he had an above-average cock. When he was in the eighth Grade, he and his classmates decided to compare their dicks. Is there anything more typical than that when it comes to young male bonding! When the beach photo and video shoots were made, the director asked Barrett to come back to his condo to take a shower and to finish his jerkoff scene. The director was curious to see how a video with Barrett would turn out in a more private, indoors setting. Unsurprisingly, Barrett was totally uninhibited as always, and he really loved stroking his huge hard cock! He would stand up and let the director take some amazing pictures of his awesome, naturally well-built body and that spectacular hard cock from all possible angles.
We also enjoyed while Barrett played with his big ball sack while talking and smiling into the camera. At one point, Barrett mentioned that once he fucked a melon when he was younger. Hearing this, the director got an idea and passed him a plastic Pineapple, which he put around his cock right away and started to fuck it. The director hands him over two floral Hawaiian Leis, one for his powerful broad shoulders, and the other for his thick cock! Since it was almost Christmas time, Barrett noticed a Santa Hat lying on the sofa, and he took it right away and put it on his head. Of course, the director thought it was a great idea and took several shots of Barrett wearing the Santa Hat – and with a Big Throbbing Boner below! What could be a better Holoday Gift than a hung masculine Santa?!
His cumshot was pretty intense, as he was really turned on b all the attention from the cameras. He moaned loudly and sprayed his jizz all over his hairy stomach and hands. His creamy white jizz keeps oozing out of his still hard cock and slowly drips onto the condo floor. Enjoy this superhot exhibitionist straight boy strutting his stuff and showing off his many goodies! His shower scene was also very hot to watch: his seductive soaping up of his hard muscular body and the water caressing his muscles… Suddenly, Garrett exclaims, "I have to pee again!" He turns off the shower water and turns towards the camera. Then he takes his second piss of the day.
We are really happy to be able to show you this superhot amazing straight stud who was so keen on being in front of the camera. The good vibes coming from Barrett are really easy to pick up and we definitely hope to see him again soon!
Preview video: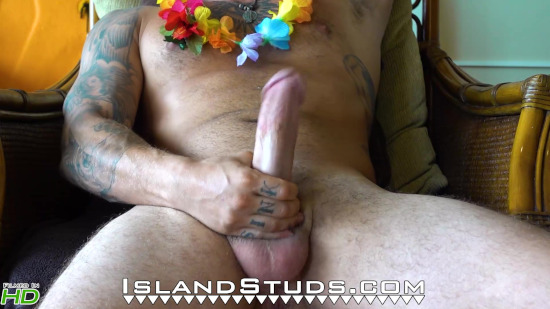 Click here to watch their entire movie in HD quality at Island Studs!
Island Studs is a great, new, and refreshing porn site that features hot guys from Hawaii. These bad boys have no problem with showing off their beautiful, toned body and hard cock. Watch them as they do their usual chores against the stunning backdrop of Hawaiian nature!