If you've been following this blog for a while, you probably know that uniformed men hold a special place in our heart. This time round, we will be taking a closer look at one hot and very hung fireman from Paris, called Sébastien.
The Keumgay director and his staff first met Sébastien at a sports field near Paris. He was alone and they gathered their courage to approach him and started a conversation with him, explaining their massage videos. They didn't tell him about the jerking off part of the massage videos this time, they wanted to keep that as a surprise for a later time. The hot fireman became interested, and even accepted to come to the shooting wearing his fireman outfit. Needless to say, the director and his staff were extremely happy to have such a great straight male specimen at their disposal.
Pretty soon it became apparent that this fire soldier had a huge fat cock in his pants, and the Keumgay guys could hardly resist touching and examining this hottie. There is a rather long jerking off session, and Sébastien enjoyed it a lot.
But here is some more info on how this whole thing transpired. Sébastien contacted Keumgay guys by using a mobile app. He was in Paris and asked if they had some girl with whom he would like to shoot a video. The answer was negative, but they told him that he could shoot a solo video in HD, if he wanted. They added that it would be appreciated if he could come as soon as possible. And there he was at their door, only one hour later! Talk about fireman and their speedy arrival!
As soon as he started to take off his clothes, it became obvious that he had a very nice, muscular and beefy body. The keumgay guys wanted to do something special at the end of the video. Namely, after jerking him off, the temptation of such a hot, natural and totally straight guy was so irresistible, that the only thing on their mind was how to suck his good big straight cock as hard as they could. So they gathered courage and started to suck Sébastien's cock… and he really enjoyed it, although he didn't see it coming! This was the very first time that any guy had sucked Sébastien's cock, and judging by his face expressions, it was a pleasant experience.
So this entire bonus video is actually the blowjob part of the original video, and it has been released only recently. You could not see it before. The Keumgay guys told Sébastien that the blowjob would not be included in the final cut of the video, and that it would be treated as a sort of "off-camera" event. Sébastien liked the idea, and it seems that the curiosity got the better of him in the end! The cocksucker literally had his mouth full of hard straight cock! Sébastien seemed to be pretty embarrassed in the beginning, but the cocksucker was so good that he eventually let go of his nervousness and went with the flow.
Actually, Sébastien later admitted that he really enjoyed the blowjob and found it very pleasurable, and in a way, even better than when a woman sucks his cock.
Preview video: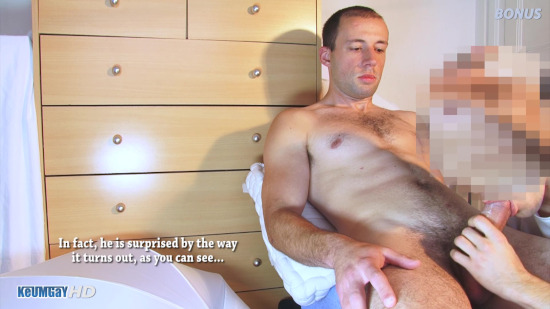 Click here to watch or download their entire video in HD quality at Keumgay.