Who says straight guys can't get used to the enjoyment that comes from an expertly done gay blowjob? Jordan is certainly a good example how they not only can enjoy them, but also get used to them so much that, if they don't get any in a long time, they start missing and craving them! One day Jordan called Jason and asked if he could do another blowjob video, as he was so horny and there were no women around. Of course the answer was a resounding yes.
Jordan appeared in his gym shorts and as soon as he sat down on the sofa, he was already pitching a tent inside his shorts. When Jason mentioned it, Jordan shyly responded with, "Yeah, it's pretty hard."
One other thing that Jordan only recently discovered is that he really likes when someone plays with his ass. When Jason finished with his first round of servicing Jordan's cock, he pushed Jordan's legs back and pushed one of his fingers into that hairy tight virginal hole. Jordan just moaned a little and pushed his legs even further up. When he got on all fours, Jordan's ass was on full display and ready to be serviced. Jason just continued to finger-fuck his ass, and then, in the midst of this fervor, he plunged into that hole with his tongue.
Jordan obviously loved this sensation, and immediately grabbed Jason's head and began to direct it onto his cock. Jordan's cock is pretty big, measuring at least 7 inches in length, so you can imagine how hard it was hitting Jason's throat. A little bit of gag reflex never hurt anyone, though, especially when the main prize is such an amazing big cock that needs to be serviced…
Jordan couldn't remember when was the last time when he nutted, but considering the amount of spunk that he ejaculated, it must have been at least a few days. His whole body shivered and tightened up when he was close to the point of no return, and then started to spray his jizz. The squirts were so powerful that Jason could barely get out of the way, as a stream of jizz was shooting all the way up to Jordan's nipple.
Preview video: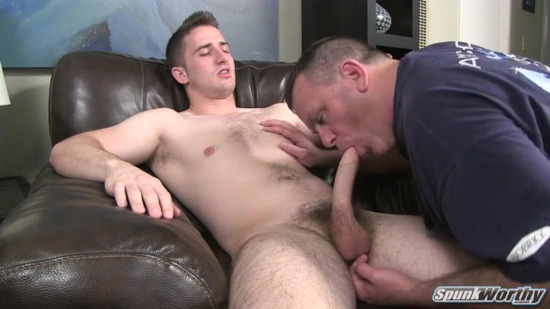 Click here to watch and download his entire video in HD quality at SpunkWorthy!
SpunkWorthy is a great porn site that features younger straight amateur dudes. Lots of truly straight military guys doing gay for pay only once or a few times! This site is usually the first and only place where you'll see these bad boys, so don't miss out!