by Ben Daniels (Admin) on Jun.18, 2015, under BaitBuddies
I must say I'm a big fan of James Hamilton. He's one of my favorite straight, gay for pay guys in porn. So I try to showcase as many of his videos as I can. This time round he was paired with Daxton Ryker. Draxton is a country boy who has just recently moved from his turnip truck in South Carolina straight into the big city. Would you be surprised if I told you that this beefy bodybuilder is very eager to try his luck in porn?
I must admit that I feature this update mostly because of James Hamilton. While Daxton is fine and there are many people who like oversized muscles, in my opinion James' toned, sinewy muscles are much more appealing… but of course, everyone's got his or her own taste for men. Although James has made numerous porn flicks since his debut here at Baitbuddies several years ago, he's still hot as fuck and sports that beautiful 9,5-inch hard cock! James is pretty much always ready and willing for action, so let's see what he did with our country boy today.
After the usual playscript with the missing girl, the guys are given the choice to either leave or make a movie with each other. Of course, they choose the latter and the action can begin. Daxton began to jack off before the "bad news" was announced, so why waste a good erection? Besides, there are bills to pay and this is some really easy cash, so Daxton relatively quickly decides to go for it.
First, the guys stroke each other's cocks. Daxton's cock is not at full mast anymore, so the director Caruso asks Daxton if he'd like to try some blowjobs. James is quick to offer his mouth and promptly swallows Daxton's 7 inches. Unsurprisingly, this inexperienced straight guy quickly gets fond of getting head from James, and his cock gets fully hard again. The guys then stand up and there's some cock comparing and measuring going on, even some tame sword fighting. James is obviously leading the game and he approaches Daxton to kiss him, to spice things up a bit. Daxton accepts the offer and the ice is now beginning to thaw more rapidly in our country boy's mind.
Daxton puts on the rubber and starts fucking James pretty hard. James probably didn't expect such a hard assault on his ass, and he moans and groans quite loudly. Then Caruso suggests that James should get on his back, but while he was turning over Daxton's rock hard cock became limp again. Caruso asks Daxton if he's nervous, and Daxton admits that "face to face with a man is a little weird."
As a compromise solution, Caruso suggests that the guys jack off together and shoot their loads. There's an interesting talk after the shoot where both guys discuss what was on their minds.
Preview video:
Click here to watch their complete video in HD quality at Bait Buddies!
Bait Buddies is a pretty hot straight guy site with plenty of updates and some very hot guys indeed. There is always a "bait" dude who is bi or gay, and a straight (or sometimes "straight") dude who needs to be seduced into gay sex.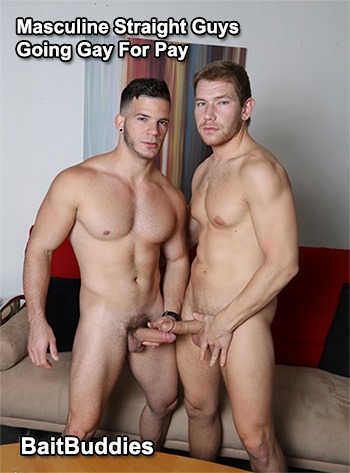 :big dick, blowjob, Bodybuilder, country boy, Daxton Ryker, fucking, gay for pay, James Hamilton, kissing, muscled, Mutual jerkoff, tattoos