by Ben Daniels (Admin) on Nov.25, 2017, under New York Straight Men
We've already seen hot and hairy Italian Pizza-Man Tony on many occasions and it's always such great joy to watch this extra-hung man enjoying a blowjob. I've selected this video as it is actually his very first appearance on NYSM way back in 2009.
Tony is a 2nd generation Italian-American who lives in Bronx. He works in a family-owned Pizzeria on Arthur Avenue in Bronx's Little Italy. Tony comes across as a typical macho straight man, complete with handsome face, Roman nose, hairy chest, ass and legs and a huge fat cock to match! His accent is slightly Italian and sexy.
Tony makes a confession in the interview that there are two types of women for him: the first one he will bring home for Sunday dinner to enjoy his mother's "Macaroni and gravy", and the second type of women are those that he likes to fuck in the back seat of his car.
Funnily enough, he also classifies men into two types: first type is guys who he considers to be his buddies, and with whom he hangs out. And the second type are guys who are good at sucking cock – when those men inquire about his cock or whether he's up for a blowjob, he usually tells them to come back at a closing time and to be prepared to swallow.
Tony says he likes to explore his sexuality with guys, and he admits that guys are usually very good at sucking cock. With that in mind, he saved his load for about two days, and Christian (the then-resident cocksucker) was just what Tony needed! Christian fell on his knees and started to service Tony and worship his cock and balls.
Check out the Extended Preview video, we've made sure to include quite a bit of this amazing classic blowjob from NYSM's golden era.
EXTENDED Preview Video:
Click here to watch their entire video in HD quality at New York Straight Men!
New York Straight Men is the world's biggest collection of straight men getting their blowjobs from gay dudes! These men are usually truly straight but they love getting head from a gay guy because it feels so much better than whatever their girlfriends can do. These men are not the Hollywood type cuties, they are Real Men!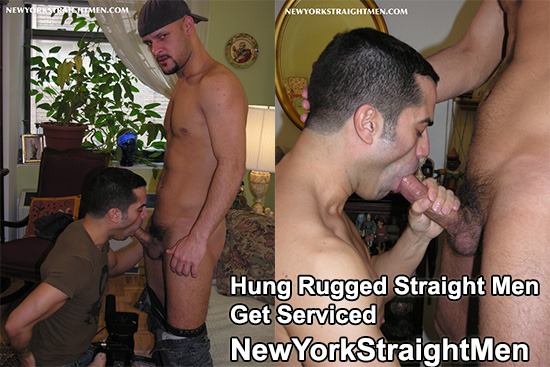 :big balls, blowjob, Christian, facial cumshot, hairy chest, hairy legs, huge dick, Italian men, monster cock, rimming, Serviced, straight men, tony