For all of us who were eager to see more of superhot straight Russian guy Fedor, I'm happy to announce that the wait is finally over! Fedor decided to make another video, and I would encourage everyone to check out his first appearance as well.
Fedor is a little under 30 years old, and he spends a lot of his time working out and just being physically active. His body is quite amazing: quite muscular but not in any excessive or unnatural way. He sports a rather LARGE DICK, which looks impressively big even when it's not fully erect.
For this occasion, Fedor wanted to demonstrate how one of his typical workouts look like. He practices some calisthenics, lifts dumbbells and jumping rope  –  while being completely naked throughout the entire workout session! His dick is dangling in all directions and it's such a lovely distraction to watch it doing its own thing while Fedor is exercising.
Finally, he takes his dick into his hand and starts stroking it pretty intensely. There's just something intrinsically extremely sexy about a sweaty muscular guy who is holding is big erect dick in his hand. Watch as this handsome Russian stud blows a nice load all over the floor, thus bringing this great jerkoff and workout session to a very satisfying end!
Preview video: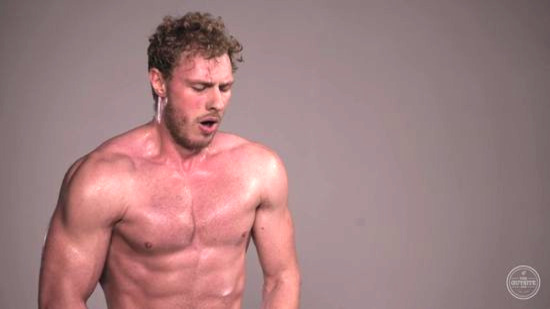 Click here to watch his entire videos in HD quality at The Guy Site!
The Guy Site is a great destination for all lovers of amateur, "next-door" type of guys. These guys are not "pretty-perfect", they look more like your next door neighbor, but just because of that they are more authentic and hence more realistic!
When you go and walk around your neighborhood you're more likely to  meet one of these hot "next-door" dudes than some perfect bodybuilder. That's not to say that there are no bodybuilders on The Guy Site, but even they are amateur types. That's why I really like The Guy Site. Certainly worth checking out.