Brock Cooper has been with us for quite some time. I remember seeing him first at some of the first gay sites such as Randyblue and Nextdoormale (for example, see his first appearances here and here) some 10 years ago. Well, he hasn't changed much and he's still just as muscular, masculine and gorgeous like before. And of course, that huge fat uncut dick of his is still amazing.
Brock was born on February 14th 1988, in Fresno California, USA. He is of Caucasian ethnicity. His height is 5'10" (178 cm) and he weighs 165 lbs (75 kg). His cock is 8 inches (20 cm) long. He has no piercings or tattoos. It's interesting to mention a fun fact that he likes turtles! He has received an AVN FAN Award in 2020 – Favorite Cam Guy.
Brock had his debut on See Him Solo relatively recently, and director Johnny Robins thought it would be best to shoot Brock in some kind of tropical paradise, such as a luxurious pool with tropical trees around. Brock comes from afar slowly, with his typical macho swagger, and then takes off his black t-shirt to reveal the impeccably chiseled chest and massive arms. He also shows us his super hot muscular bubble butt. The main thing that we are all awaiting to see is, of course, Brock's huge uncut cock, which he soon reveals from his wet undies.
He also gives us a great view of his big manly feet and nice strong calves while he's slowly stroking his cock. There's inevitable foreskin play, because if you have such a hot uncut cock, who wouldn't play with its foreskin? Little by little, Brock approaches the point of no return and shoots a nice load all over his stomach. He takes some of his jizz and tastes it.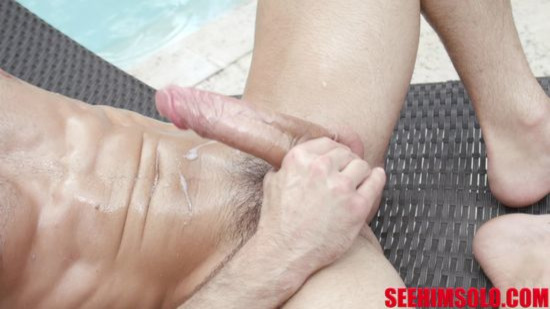 Click here to watch or download his entire video in HD quality at SeeHIMSolo.