by Ben Daniels (Admin) on Feb.09, 2015, under CMNM
Lee Towser is a hot muscular footballer, and a proud dad of two sons. It's obvious that this handsome manly lad has a very fertile seed brewing in his balls and the board members of Mancastle United football would like to get a sample of his sperm in order to make sure that he is indeed the best of the  best they could find. There are several more candidates but the rumor is that nobody can match the potency of Lee's sperm. Lee is supposed to sign a contract with this football club, but he also knows that this examination is a necessary part of it.
While the clothed men are touching and exploring his manly body, Lee's cock wakes up and spontaneously begins to get hard. Only a few hand strokes on that beautiful man meat and Lee was about to cum. His warm jizz splatters all over the new club's owner, who didn't seem to mind this at all. Lee knows that men who decide about important things in this football club are pervy motherfuckers and that he would have to put up with even more elaborate naked inspections in the future.
Check out these pervy men's wanton adventures in their whole videos in HD quality at CMNM.
Clothed Male / Naked Male (CMNM) is a superhot porn site where Nervous straight guys get stripped naked, groped and violated by fully clothed men.
There's nothing better than stripping straight lads completely nude, putting their bodies on display, and teaching them exactly how to submit! When they are in such a submissive position, one would be crazy not to use the opportunity and jerk them off!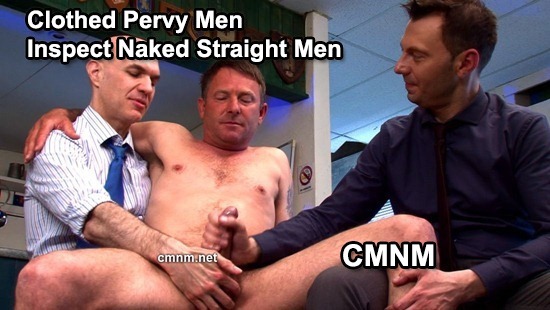 :Clothed Men, ejaculation, inspected, Lee Towser, muscled, naked men, Sperm Sample, spontaneous erection, sportsmen