Guillaume is a 26-year old guy who works as a salesman. He came to the house where Keumgay studio is located because he wanted to influence the current tenants about the choice of the contractor that is supposed to do some work in that building. As soon as the director saw how handsome and sexy Guillaume was, he decided to let him into the house, hoping that he would be able to talk him into posing naked for their site.
As a professional salesman, Guillaume is very skilled at negotiating about the matter at hand. When he was offered a chance to pose naked for a porn site, he said "Well, as long as I can tell you about my project." He gave the director the green light to film him and to touch him.
Nevertheless, Guillaume became totally surprised and taken aback when the director put his hand into Guillaume's suit, looking for his cock. Guillaume looked at the director with suspicion, and then started to stare at him with disbelief and bewilderment. It's as if he was thinking "This guy really meant it when he asked if ye could touch me, it wasn't a joke!"
And as much Guillaume's mind didn't appreciate that a guy was touching his private parts, it is quite obvious that his cock liked it and started to get hard pretty quickly!
The director looked at the control screen and he could see that Guillaume had an angry face expression… the director was concerned that Guillaume might punch him in the face and just leave the studio. But that handjob felt so good, giving him such great sensations on his huge fat cock, that he was reluctant to put up any fight.
The director was in heaven while he held Guillaume's huge dick in his hand… he thinks it's at least 8 inches or 20 cm long. A perfect stiff rod for a thorough handjob!
Preview video: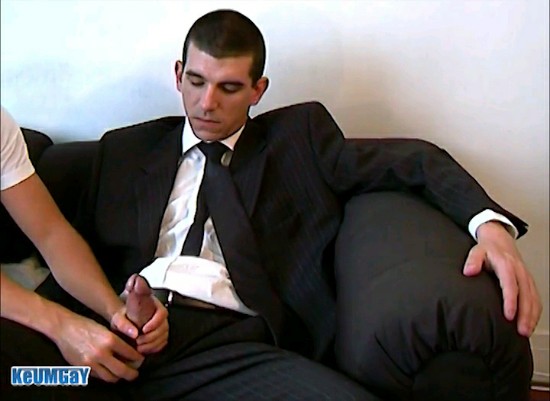 Click here to watch or download their entire video in HD quality at Keumgay.