We've already seen Vlad on several occasions previously (check him out here and here). This very hot, muscular and extra-hung straight dude was first spotted in a local gym while he was doing some fitness exercises. The Keumgay director thought that Vlad looked so sexy that it would be a crime not to show him to the world at large. So he waited until Vlad went into the shower and joined him there to start up a little chat about their massage videos.
Vlad is definitely one of those masculine, raw and silent types. He can't stand any drama or excessive small talk. You need to be sparing on words when you're communicating with him. But at the same time, he is very honest and fair. After some time he became very interested in appearing on the Keumgay site and started to ask a lot of questions about the massage video itself. Despite all these questions, the Keumgay director thinks that Vlad might have not properly understood the ultimate aim of this proposal.
Be that as it may, Vlad came back after three days, and the massage video was recorded. But, the director wasn't quite satisfied with Vlad's disposition in the beginning. Vlad seemed too nervous and kind of absent-minded, his face quite expressionless and he didn't smile at all. He was definitely concerned about appearing on their site. His eyes were glued to the window instead of the masseur.
Perhaps he felt shy, but the director decided to continue with the massage nevertheless. However, when the masseur started to touch Vlad's underwear, two different things happened: Vlad's dick got immediately hard, and he said he wouldn't allow another guy to touch him in such a sexual way. We can understand that a totally straight dude may have such misgivings about a gay massage video, and why he would feel unsure about the whole thing. It's a straight guy's thing, for sure.
However, the director continued playing with Vlad's cock, and little by little, Vlad started to enjoy the ride and the feelings of worry and nervousness gave way to the feelings of pleasure and ecstasy. In the end, he was happy to be their sex toy and have his hard monster cock stroked and manipulated by two guys. This was Vlad's first gay video, but after this was released, several other producers took notice of Vlad and it seems he was contacted by them to do more similar work.
In this video we get to see previously unreleased footage of this hot massage video in which Vlad gets massaged by two guys. As the video progresses, things start to get really crazy. One of the masseurs got the crazy idea to try to massage Vlad's ass. If you know straight guys well, you would know that this is an especially sensitive area for them, and they don't want anything or anyone near their precious ass crack, unless they give their full consent beforehand.
Naturally, Vlad protested, but since he needed the money badly, he knew he had to comply with the masseur's wishes, or there wouldn't be any payment. He was not enthusiastic about this, but the masseur's expertise in this area was so great and he was doing such a fantastic job at massaging Vlad's anus that Vlad eventually had to (grudgingly) agree.
Little by little, the masseur's magic on Vlad's ass started to produce visible results, and Vlad began to enjoy the ride and feel intense pleasure instead of worry. As a matter of fact, it felt so good that he came close to cumming from just having his prostate massaged. That's probably something he had never experienced before. This video is definitely the right choice for anyone who likes to watch real straight guys doing gay for pay stuff for the first time, and the stages they often have to go through while doing this… it's quite interesting and hot.
Preview video: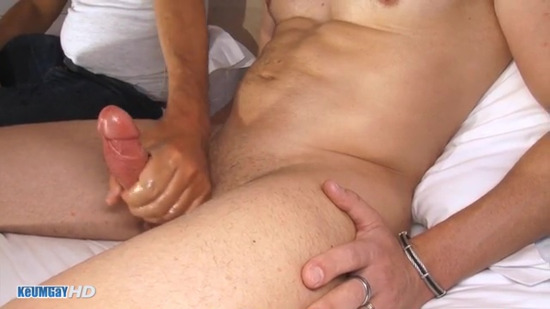 Click here to watch or download their entire video in HD quality at Keumgay.