by Ben Daniels (Admin) on Apr.28, 2016, under NextDoorBuddies
Markie More and Addison Graham play two step brothers in this new hot video from Nextdoorbuddies. Despite their willingness to get along well with each other, there have been some problems. Markie has been thinking about it and things definitely seem a bit suspicious when it comes to his step brother, and Addison also thinks there are curious things about Markie's feelings towards him. Of course, things become even more complicated when one takes into account the fact that the two guys live under the same roof and it's not always easy to stay private when you have only one restroom in such a scenario.
So for instance, on one of these days Addison noticed Markie sneaking around the side of the yard, and he decided to follow him out o Markie's secret stash spot which is back in the house. And what do ya know – Markie hides there a whole slew of sex toys, lube and a bunch of other stuff. Markie whips out his hard dick and starts stroking, while Addison is watching him from some distance. Unfortunately for Addison, he trips on some loose bush and Markie notices him! Markie demands that Addison promises him never to tell any of this to their parents, and Addison agrees – under one condition. Addison focuses his eyes onto Markie's bulge and you can immediately tell what that condition might be! Markie notices which part of his body is being devoured by Addison's eyes and he immediately starts protesting. Markie insists he's not gay and that the whole thing just won't work. Addison tells Markie it's ok, he can just pretend he's gay and starts servicing his cock. Markie closes his eyes and it slowly dawns upon him that Addison's mouth and throat are far better than any Fleshjack he's ever tried!
Addison slobbers all over Markie's cock until he makes him rock hard, then offers Markie his cock to return the favor. Markie plays the usual strict hetero dude, refuses it flatly, and shoves his dick back into Addison's throat. He fucks Addison's face while standing. With his cock throbbing now, Markie is willing to fuck some ass, so he bends Addison over and pushes his dick deep into his step brother's ass. Addison is forced to receive the whole shaft in one blow and is impressed by its size. With every thrust Markie manages to push his dick a bit farther and stretches Addison's hole even more. Addison is on the seventh heaven now, his long time dream has just become a reality. Little by little the two guys are nearing the point of no return. First Addison releases his seed all over himself, and then Markie pulls out and shoots his spunk all over Addison. Addison lies there splattered with Markie's spunk and asks Markie if he's still interested in his sex toys, to which Markie responds that he's just trading one toy for another. Although it sounds like an insult, Addison couldn't care less – he's just found a great fuck buddy.
Preview video:
Click here to download their entire video in perfect HD quality from Next Door Buddies.
Next Door Buddies is a porn site that features the typical "guy next door" types of men having some hot man on man sex with each other. These guys are usually either really straight or straight looking, although there are of course hot gay guys as well. The stories are a bit cliché but the production quality is pretty high and the men are usually really goodlooking.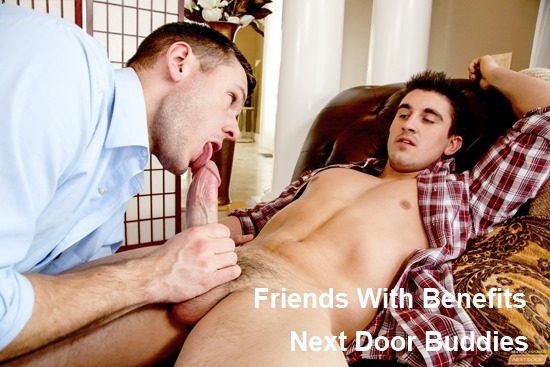 :Addison Graham, big dick, blowjob, deepthroating, hardcore fucking, Markie More, muscled, muscles, outside, Serviced, spunked, step brothers, straight to gay, tattoos