by Ben Daniels (Admin) on Mar.18, 2019, under CFNM
The moment has finally come, and George knows it! It is his big opportunity to finally apply for a major big budget movie and get the main role. There has been a call to cast a totally new version of the Superman movie, and George thinks he's cut out for the role perfectly. This is the big chance he's been waiting for all his life! Most of the previous roles he's taken have been so disappointing and so far from what he really wants to do with his movie career. He knows that all it takes is just one good opportunity to finally get the role of his dreams which will enable him to make it big in the showbiz.
Little does George know that he would be auditioned before the savvy casting director who goes by the name of Louise. Louise has a special penchant for playing with big muscular actors like George, and she always examines them thoroughly. Now that George is bound in place, Louise tells the actress who would be playing Catwoman to taunt George and have her way with him! Both Louise and Catwoman are totally thrilled to have such a handsome and muscular big stud chained against the wall and dependent on their mercy. George is already suspicious if this is all really necessary, but he wants that part so badly he'd do anything to get it.
George already realizes that this audition has gone way too far, but since he's physically chained in place there's not much he can do to stop these voracious women from ripping up his superhero costume and exposing his hot naked body! Sure enough, he had heard about how women are often taken advantage of on various Hollywood castings, but he has never heard of the same thing happening to big burly men like him! He feels ashamed and angry at the same time, having to endure all the insults and scrutinizing of his naked body by these strange women.
The women don't really care much about George's feelings, though. They think he's just yet another big, muscular nitwit who wants to become an actor. But now he's at the point from which there's no going back. If he leaves now, he knows he will have humiliated himself and received nothing in return. At least there's some little chance he'll get that role if he stays obedient and does what these pervy girls tell him to do.
The Casting Manager Louise has considerable experience with entrapping hunky aspiring male actors. She keeps a huge file of every such actor who strutted through her door! She has many pictures of various male actors' cocks, arses and other parts of their hot bodies, which she meticulously organizes into separate files. Louise takes lots of pictures of George's cock and hot arse, and carefully adds them to her ever-growing collection of scandalous photos of many popular Hollywood male actors. That serves as her guarantee that she would remain safe and avoid any unpleasant retaliatory measures from those actors.
And just when George thought things couldn't possibly get any worse, his cock started to get hard quite spontaneously! Casting Director Louise and actress Fay are gleefully enjoying the sight of George's big stiff cock right there in front of their eyes. They know that their taunting him was the main reason he got the stiffy. George is now very horny despite being in such an awkward situation, and he's desperate to bust his nut! The pervy women wallow in their success – they brought this big burly man at the peak of his masculinity and with a insane sex drive to his knees, and he's utterly dependent upon them now! (to be continued…)
Click here to watch their whole video in HD quality at CFNM (Clothed Female/Nude Male)!
Clothed Female Naked Male (CFNM) is a very hot site for lovers of truly straight guys. It definitely has "a tongue in cheek" quality to itself, and both the men and women are really hot!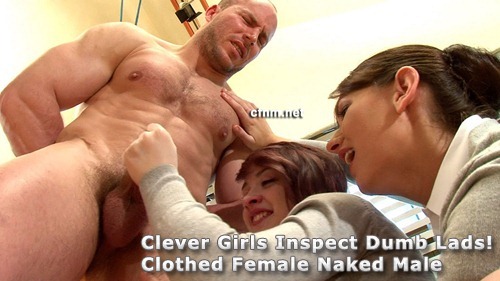 :beard, big biceps, big dicks, bound, Casting Director Louise, catwoman, examined, female domination, George, Humorous, masculine men, muscled, ripped, spontaneous erection, superhero, superman