by Ben Daniels (Admin) on Sep.03, 2012, under Manavenue
To be honest with you, guys with big muscles really turn me on more than anything else. Not the bodybuilder types with unnatural muscles but guys that have just the right amount. When I see those big biceps like mountains and perfect chest I just melt and continue to stare at the muscle stud with a smile on my face, while my dick gets hard like a rock.
Milos Zambo is a Czech muscle god who certainly fits in the description. He first appeared several years ago on several sites. Then he disappeared for several years. Now he's back and in a better shape than ever!
We've already seen him in a fuck scene with Rudy Godlak where he nailed Rudy and ravaged his ass. Now it's time to take a closer look at this stud and enjoy his solo jackoff session.
First Milos begins his show by giving us a nice view of his body while he's still fully clothed. He flexes his muscles making us yearn to see more. Even when he's wearing clothes Milos' muscles look absolutely impressive and even a little intimidating. I have a feeling he could crush anybody with one stroke of his big arm.
The muscle flexing made Milos horny and now he's got a nice boner inside his pants. He's letting us peek into his swollen cockhead a little, but he's still not showing the entire shaft. Milos likes to play these little games and to tease his admirers. His rock-hard boner now sticks through his pants, wanting to be set free.
Milos begins to take his clothes off slowly, takes his jock and puts it onto his hard cock. If you had doubts as to how stiff it really is there's a proof for ya!
Next, he kicks back on the bench and lifts his legs into the air, which enables us to get a nice view of his virgin asshole. He puts a finger inside it and probes his ass gently. But he doesn't seem to like this a lot, it seems straight men just don't like to play much with their assholes. However, after some time he got much hornier and now fingering his own ass proves to be a wholly new source of enjoyment! He continues to jack off and I must say it's a real pleasure to watch him in this position with such a hard erection.
I love to watch big guys walking around the room with a boner so I suggested this to Milos. He walks around cockily with that big erection which occasionally bounces so you can be sure he's really horned up. Then he bends over the sofa to give us view of his ass again. He continues to make movements similar to fucking, it's as if he is fucking the "hole" which he made with his own hand. Imagine if that "hand hole" was your ass!
After some time Milos is close to cumming and he moves to the bench again. He kicks back and jacks off intensely until he shoots a big stream of jizz directly onto his six pack abs.
Milos has a nice, interesting tattoo inked across his chest. It says "Hope Never Dies" – and after seeing this naked straight guy that oozes with manliness I must say that the message is true. Of course it's applicable for just about anything in life, but today I like to think this way: If you're persistent enough, there's always hope that you'll run into a godlike muscled creature like Milos!
Preview video:


Click here to watch his entire video in perfect HD quality at Manavenue!
Manavenue is an exceptionally good porn website that features masculine, cocky, muscled, powerful straight men, the type of guys that grab your attention while you're secretly ogling them in the street or in a supermarket. These tough motherfuckers are aware of their sexual appeal and want to show you everything they've got.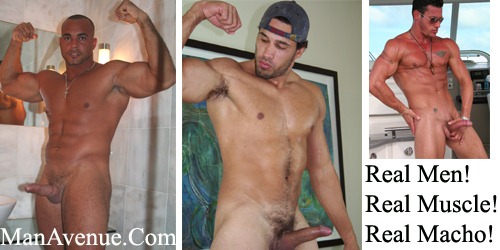 :Big Arms, Big Chest, big dick, cumshot, Czech, European boys, facial hair, Fingering Ass, flexing muscles, jerking off, masculine, Milos Zambo, muscle god, muscled, showing off, straight guys, strong body, stud, walking with erection