by Ben Daniels (Admin) on Apr.14, 2013, under New York Straight Men
What can you do with a straight buddy if he's engaged and has promised his future wife that he'd refuse all blowjobs, even if it is a man who would do the sucking? Well, the obvious answer is – you can always jerk off together.
Our old Italian Pizza man Tony is finally back! But he is engaged now, and he has promised his fiancé that nobody's mouth will touch his cock except hers. On the other hand, Tony admits that he's hornier than ever and sometimes just needs to bust his nut.
By the way, Tony was very vocal in this video and explained the whole situation to the viewers and his longtime fans.
Troy was not put off by this new situation and encouraged Tony to jerk off together. Damn, I almost forgot how big Tony's cock is! It's a real rod, a real fuck stick that can do a lot of damage to tight unprepared holes! Imagine that hairy stud impaling your ass with his humongous dick… priceless.
Click here to watch their entire video in HD quality at New York Straight Men!
New York Straight Men is the world's biggest collection of straight men getting their blowjobs from gay dudes! These men are usually truly straight but they love getting head from a gay guy because it feels so much better than whatever their girlfriends can do. These men are not the Hollywood type cuties, they are Real Men!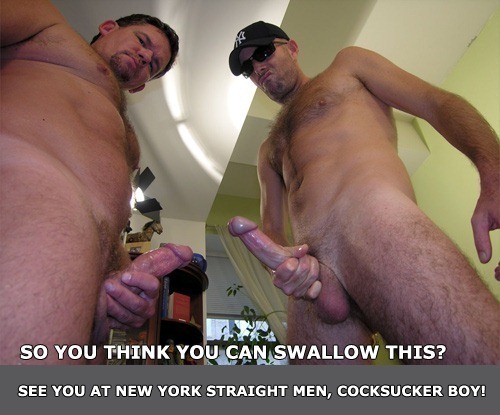 :engaged, facial hair, hairy chest, hairy legs, huge cock, italian, jerking off together, masculine, naked straight guys, thick cock, tony