Today is a prefect opportunity to take a closer look at two hunky straight guys: Derek and Tony. Derek is a tall, beefy All-American Lumberjack, with an amazing 8-inch long hard cock. This was the very first time he interacted sexually with another guy in the popular Jerkin' Roommates Series. Tony is a handsome Italian guy who wanted to try his luck in porn.
It's interesting to observe the differences in the bodies of these two men: Tony has a lean, ripped, surfer-like body with prominent tan-lines, a decent amount of chest hair, and a hefty foreskin that covers his yummy cock. His cock and balls are surrounded by a proper natural bush of male pubic hair. On the other hand we have Derek with his baby-face yet quite manly face at the same time, distinctly muscular footballer-type body, fat 8-inch cut dick and strong beefy muscular butt cheeks. Both studs are equipped with 6-pack abs, and strong muscular biceps (which they both love to show off for the camera!).
The two guys start fooling around with each other, hugging each other while being naked and comparing their hard cocks. They first parade in their tight colorful underwear and then they continue nude. It's especially hot to see them both having throbbing erections and standing side by side. Uncut Italian Tony is proud of his long, solid dick that has lots of foreskin. And Derek is also proud of his 8-inch monster cock that always stands ready at attention! These guys obviously had a lot of fun being together and showing off their hairy manholes for the camera, and doing many other "garden chores". For example, they rack up leaves, bend over to load a wheelbarrow and do other similar tasks that enable us to appreciate their naked bodies in their full naked glory.
The two guys then take a nice long piss together at the same time. Two powerful golden streams meet in the distance, while making a nice little pond of pee on the ground. They also sunbathe on rafts in the swimming pool while the camera takes some interesting and hot pictures from various angles. After this afternoon siesta in the pool, our boys start parading around the garden with their full erections (so we have both cut and uncut cocks). They continue to flex their muscles and show off their powerful biceps. Finally, they focus on stroking their cocks together, and they cum almost at the same time, ejecting powerful streams of warm jizz in the air! After this amazing jerkoff duo, our two hunks head to the shower to wash off all the cummy mess from their bodies. We can watch their bouncing boners while they walk to the shower.
Derek is now well-known in Hawaii because of his previous two videos on Island Studs. People know him as "Big-Dick Derek", and appropriately so! Ever since he showed his massive 8-inch cock for the camera, people call him that way. He impressed the viewers with his crazy trimming skills while using a chainsaw! You can watch those two previous videos if you join Islandstuds. You can also watch Derek climbing trees while being fully naked, complete with a raging boner!
Newcomer Tony has a handsome face that would feel at home in any major movie, and he could definitely do fashion modeling. Luckily for us, he chose to do porn instead! Derek and Tony are now roommates in real life, and this was their first ever mutual jerkoff video that they did together. They share with us their personal and private stories, while fooling around with each other and working together nude. They both admit that they hadn't seen each other naked before this occasion, despite the fact that they are now roommates in Hawaii and that they grew up in Colorado together. Perhaps one of the hottest things was to watch them standing side by side, with their cocks erect, and talking about their experiences with women. They tell us their little secret: they are ideal "wingmen" in bars together, the women know that they both have tasty cum which women like to swallow. Tony even brags about having fucked a 54-year old MILF this year. She was 14 years older than the MILF with which his buddy Derek can brag about!
Now some stats. Derek is now 27 years old, he is 6′ (183 cm) tall and weighs in at 210 lbs (95 kg). He definitely looks more buff and strong than ever. I guess all those hours spent working as an Arborist and Tree Trimmer can easily shape your body into something that Derek has. Tony is 23 years old now, he is 5'10" (178 cm) tall and weighs in at 150 lbs (68 kg). He came to Hawaii because he wanted to visit his friend Derek, and since he easily found a job as a waiter in a family-style Italian restaurant, he decided to stay here, and the guys rented their apartment. Tony always points out that he loves Italian food, while stroking his stiff Italian cock. Is the food responsible for so many Italians being so hung? Inquiring minds want to know!
Now, if you're familiar with Islandstuds you know that they have their (in)famous "Naked Worker" series. These two buddies were put to work naked together under one giant avocado tree, and their task was to rake up leaves, then load them into a wheelbarrow. All this while being almost totally naked, just wearing their leather gloves and Hawaiian slippers on their bare feet. It's always hot to watch these two muscular studs working together and sweating naked. Check them out while they are bending over to collect the piles of debris. Check out those smooth ass cheeks slowly open and give us a good view of their virginal assholes! Derek noticed that the cameraman loves the sight of his ass, so he puts on a show – he opens his big white muscle butt while allegedly being preoccupied with his work. Ass Lovers will definitely like this video because these studs' asses are caught from all the interesting camera angles, and they keep opening their holes showing them off unapologetically, while their big balls keep dangling between their muscular powerful thighs while they work.
They both get massive boners, flex their biceps, pose naked and hug each other while their cocks keep dangling fully erect. Then they take a pee at the same time. Their streams of pee cross paths and make a mutual pee-pond right there in the driveway. Warm piss splatters all over their bare hairy feet making a big pond of fresh pee. Derek is the first to finish his peeing adventure, and he keeps looking at Tony in amazement as Tony's long piss just keeps coming out of his uncut cock! All the Piss Lovers should take note of this video on Islandstuds because it's just so great! These guys then proceed to walk all the way to the pool with their cocks fully erect and sticking out, then they jump into the pool to clean up, cool off and relax. Hot sight of two ripped bodies floating over the cool blue water!
Several cameras catch their big balls, perfect cocks, massive thighs and smooth bubble butts from several angles while they keep taking a nap on the water in the scorching sun. They use their rafts in the water and lie on them fully nude. Now here's another specialty scene: SPORTS ACTION CAM! This underwater camera can film anything that happens underwater, including these studs' hairy thighs while they're skinny dipping together in the pool. Ass Lovers will certainly appreciate this part as well, because the camera catches their muscular butts while their balls hang between their wide open legs. There's one particularly well done closeup of their big muscular butts side by side in the pool.
When the sunbathing in the pool is over, the two hunks sit side by side on a small sofa and begin to do what men like to do most among themselves: to compare their hard dicks! You can understand their excitement since this is the first time they actually jerked off together. This sweaty jerking off duo scene is too hot to be overlooked or missed! They keep fooling around with each other, telling shit and jokes etc. Both guys cum big! Witness them shooting their huge loads of jizz, while their cocks keep throbbing long after the cum-explosion!
Tony doesn't say or moan much while he is cumming, he just keeps shooting stream after stream of jizz all over his body. The cock spasms are strong, so the streams reach his smooth chest and belly without a problem. It's beautiful to watch that 8-inch hard missile exploding with such force! It's no wonder that the Islandstuds owner thinks that this is actually the best Duo that he has ever filmed. He adds that maybe his favorite part is when the two guys enter the shower, with jizz still dripping from their cocks. Tony's foreskin is quite visible while he's taking a shower with a full erection. Was that boner because of Derek's presence just next to him? Hard to tell. I have this crazy theory that one hard cock spontaneously makes all the other cocks hard in its vicinity. And even straight guys are not immune to this phenomenon. Not that it's ever been tested, but it's a reasonable hypothesis, don't you think?
Derek soaps up his 8-inch pulsating monster as well as his muscle butt, while Tony moons the cameraman with his bare butt. When the sexy shower scene was over, the two straight friends stand again side by side and continue to chat and laugh about their crazy Naked Afternoon!
Preview video: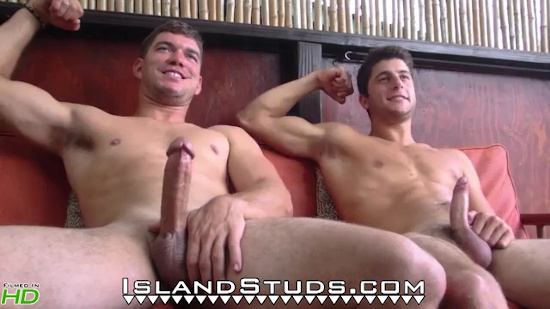 Click here to watch their entire movie in HD quality at Island Studs!
Island Studs is a great, new, and refreshing porn site that features hot guys from Hawaii. These bad boys have no problem with showing off their beautiful, toned body and hard cock. Watch them as they do their usual chores against the stunning backdrop of Hawaiian nature!