Tag: 8-pack abs
by Ben Daniels (Admin) on Jul.11, 2013, under Island Studs
Johnny is a sexy 20-year-old stud with a big, fat cock. He is especially fond of his big penis, for which he affectionally says "Oh, man! I love this guy!". Well, who wouldn't, when it's so nice and big?
Johnny is also pretty cocksure about his body, he works out regularly and has a 8-pack abs that looks amazing. Johnny is pretty much always horny and he loves to walk around with a hardon and show off his body and hard cock.
Some men get shy and cannot perform while being on the camera, but not Johnny. He gets off on being watched, and that turns him a lot. His dick stayed rock-hard during the entire shoot, wow!
He can even lift free weights while his cock stands upright. Damn, I wish I had his youth.
When I asked him what body part he considers the best on his body, he said "The abs – everyone likes my abs." He did some manual jobs for us, and it was great fun to shoot him while he removed patio rope lights while being completely nude.
Then he walks a bit further and takes a long piss. Dang, such a typical male trait, to piss wherever he wants, and to mark the territory. But this was no ordinary piss – he did it while totally hard, and then even after he finished pissing his cock was still pulsating and fully hard.
Next, Johnny sits on a veranda and gives us a great view of his entire body and especially cock and balls. Suddenly he shoots a big load of thick jizz all over his 8-pack abs. Damn!
Preview video:


Click here to watch his entire movie in HD quality at Island Studs!
Island Studs is a great, new, and refreshing porn site that features hot guys from Hawaii. These bad boys have no problem with showing off their beautiful, toned body and hard cock. Watch them as they do their usual chores against the stunning backdrop of Hawaiian nature!
1 Comment
:8-pack abs, big cock, blue collar, handsome, jerking off, muscled, pissing, ripped, straight guys, tattoos, thick cock, throbbing cock, working out
Click For More...
by Ben Daniels (Admin) on Aug.23, 2012, under Southern Strokes
I had seen Clayton Jasper on some photos that he sent us earlier, but I didn't quite expect to see such a huge and beefy guy. Holy cow, this is what I call a beefy stud!
Clayton is 6 feet tall (183 cm) and weighs about 200 lbs (90 kg). However all that weight is in his muscles – he's one of the most perfectly built young men that I've seen lately. I have seen some pretty amazing biceps in my life, but Clayton's take the cake. The are 18 inches in circumference and when he flexes them they are hard like stone. His chest is also a work of art, and he doesn't have 6 pack but 8-pack abs.
Despite his very rough physique Clayton is pretty shy and has a rather boyish demeanor. But make no mistake, this dude is a man's man. He is very masculine and he treats everyone he meets like his buddies. There's some kind of manly warmth in his behavior and you just want to be near him to absorb all that beautiful manliness that emanates from his personality.
I was so fascinated by his muscles that I asked him to flex them for quite a while. He got a bit embarrassed but as the time passed he got excited because of the attention he was getting.
Then he gives us a nice look of his perfect beefy butt. I told him to remember the drills from his military days and bend over grabbing his ankles so that we can get a complete view of his asshole.
Clayton was probably too excited to lay down on the bed. Instead he stood on the bed and worked his cock like a madman. He stroked that big dick very passionately and as he was getting near the point of no return, his muscles got even harder and his skin was all sweaty.
Finally, Clayton shoots a huge load of cum. It was like a big projectile and it was so strong that it even hit my hair!
Short preview video:


Click here to watch Matt's entire video at SouthernStrokes!
Southern Strokes is a porn site devoted to the hottest boys from the US South. As the saying goes, "Everything is bigger in Texas" and these boys are the proof. There are solo shoots as well as two or more boys fucking (sometimes bareback). All of the boys are amateurs, not porn actors, so if that's your cup of tea, you should definitely check them out!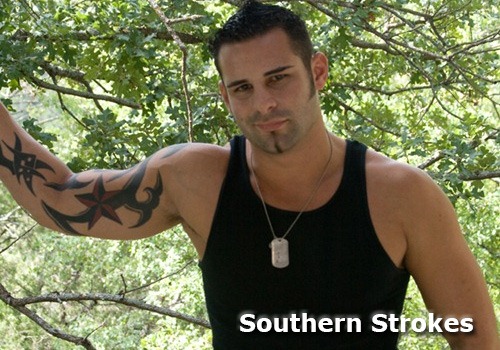 Leave a Comment
:8-pack abs, ass shots, beefy, Big Arms, big dick, Clayton Jasper, flexing muscles, hairy legs, handsome, jerking off, masculine, muscle god, muscled, tattoos
Click For More...