New recruit from Active Duty, Sawyer, has quite a number of fans already. He is young, very handsome and never avoids challenges. We paired him with our super masculine, totally cropped soldier Tanner! Sawyer decided to take a plunge into the unknown by offering his ass to Sawyer, so that he can do with it anything he wants.
Now Tanner has quite a big schlong, so I knew right away that this was going to be interesting. I find it particularly exciting to watch a newcomer (and anal virgin) taking his very first big cock up his ass.
The scene begins with the men chilling and chatting, and Tanner makes a remark about Sawyer's big bulge in his shorts. Tanner asks "So, is this the first time?" And Sawyer replies, "This is gonna be the first of… receiving. The first time I'm actually catcher. Should be interesting."
Then they slowly take their clothes off, and touch each other's hard bodies. They exchange compliments about the specific parts of each other's body, and I can feel that their cocks are now ready.
As soon as Sawyer removed his shorts, Tanner went straight for Sawyer's cock and swallowed it entirely. Sawyer is bewildered by the cocksucking skills of his buddy and can't believe that a blowjob can feel so good. Tanner stops to ask Sawyer, "Better than your girlfriend?" and Sawyer replies "Yeah, any day".
Then the guys change roles and Sawyer tries to swallow Tanner's entire dick but it's not an easy task! He makes a good effort, though and after that he straddles Tanner's face and feeds him his fuck stick again. Tanner sees a good opportunity to remind Sawyer who is going to be in charge this time, and slaps Sawyer's ass with his big cock.
Sawyer is now ready to be anally violated for the first time and gets on all fours. Tanner is behind him, holding his cock in his hand. Tanner first probes Sawyer's ass several times with his cockhead and, after he's made sure he can break in, he shoves his entire shaft into Sawyer's ass.
So there goes Sawyer's anal virginity – disappeared in a few seconds! Tanner starts pounding Sawyer's ass much harder and occasionally slaps Sawyer's ass cheeks saying "how do you like that?" Sawyer just moans and mutters something unintelligibly. Tanner makes a comment that this is the tightest ass that he's ever fucked.
Then Sawyer lies on his back and raises his legs in the air, while muscled Tanner stands between them. Tanner shoves it and Sawyer moans with pleasure. This is the moment I've been waiting for because I got such nice close-up shots.
Then I suggested that Sawyer also fucks Tanner a bit, so they switch and now Sawyer ploughs Tanner's ass. The guys were not loud and didn't talk much, you could just hear their grunts and mumbles. Tanner got quite a good ass overhaul from Sawyer and I suspect he wanted to return the favor when he gets the chance to fuck him again… which is just now.
Tanner moves behind Sawyer and begins to fuck him again aggressively, ramming in his cock like an animal. Then they switch again. The intensity of the fucking increases and soon enough Tanner is about to cum while Sawyer is still fucking him. Sawyer pulls out and shoots a massive load that travelled a big distance from his cock. Actually it shot Tanner's neck!
Tanner cums soon after this and streams of cum run down his dick. I think it's safe to assume that Sawyer really liked losing his cherry!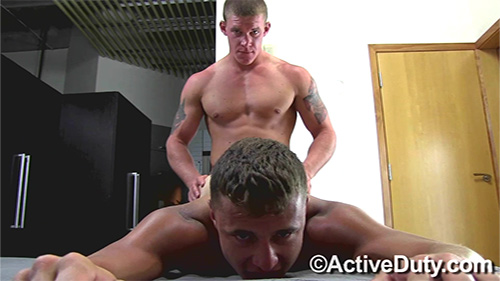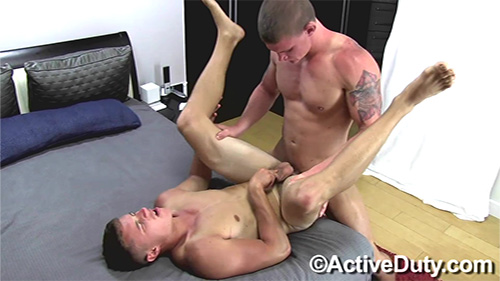 Click here to watch their entire video in perfect HD quality at Active Duty!
Active Duty is a great porn site that specializes in younger military men and uniformed studs in general. These men are usually real amateurs and you will see them only here. Ripped, muscled studs in the army and their insatiable sexual hunger will leave you stunned!
Active Duty is one of the oldest gay porn sites – but it has been recently updated and overhauled and now it looks brand new! Also all the videos are from now on in 2000 bit HD quality – so you can watch them even on your big TV screen!