Tall, bearded and very hung Wrestler Ian is finally back to show us more of his hot body and that amazing 9-inch fat cock! Ian is 20 years old, and still studies at Honolulu College here in Hawaii. His height is 6'2" (188 cm) and he weighs in at 170 lbs (77 kg). Ian is very talkative and has a friendly attitude. He likes to talk about how much he loves to get naked outdoors when he's given the opportunity, such as for this occasion.
He effortlessly juggles Hawaiian Lilikoi (Passion) fruit while his huge 9-inch cock stands firmly erect! As is the custom on this site, Ian is given some chores to do in the garden, which he does while being totally naked… and – with a full erection! He climbs up a ladder, totally naked, to trim the tree branches. We can enjoy the view of his massive throbbing cock and dangling balls while he's doing that!
Ian also walks around the garden with his cock fully erect. Just gotta love a man who walks with a full erection and it all looks so natural and effortless. Ian also takes two powerful pisses outside, one of them while his cock was rock hard. Then he sits down in a chair and devotes due attention to that huge throbbing beast that he's carrying between his legs. He strokes his dick slowly and takes his time with this. He jokes about his cock being "always hard"… which is not far from the truth! Actually, I've never seen any man with such a strong erection that he can effortlessly maintain for such a long time. After some time Ian reaches the point of no return and shoots several strong streams of cum all over his 8-pack abs.
Afterwards, Ian heads straight to the shower while his jizz is still dripping from his cock and abs. Ian loves to bathe and he takes his time with taking a shower. His amazing 9-inch missile still stands at attention while he lathers up his body.
This is the 4th appearance of this extra-hung dude. Check out also his previous appearances, such as his famous duo with Berkley in which Berkley cut his hair in the infamous "Naked Haircut" episode. Take a look at them, they're both very sexy!
There is also Ian's solo jerkoff episode when he was 19 years old, which just gets better with time. Check it out, it's pretty hot to see Ian when he was a little younger and twinkier. You can still find all of Ian's episodes in Islandstud's Members Area, so please consider joining their site!
Preview video: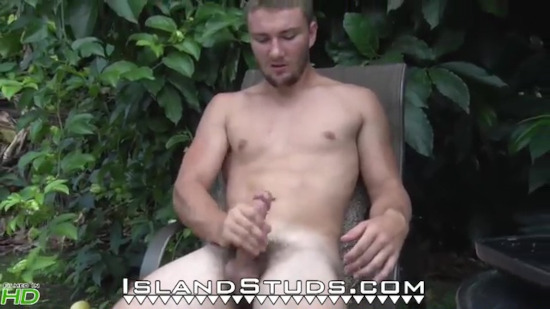 Click here to watch their entire movie in HD quality at Island Studs!
Island Studs is a great, new, and refreshing porn site that features hot guys from Hawaii. These bad boys have no problem with showing off their beautiful, toned body and hard cock. Watch them as they do their usual chores against the stunning backdrop of Hawaiian nature!