Tag: army cap
by Ben Daniels (Admin) on Feb.18, 2013, under GayWarGames
Matej is a young innocent boy who was at the wrong place at the wrong time. He used to work as a cook, he never did anything wrong to find himself in this situation. He was on his way back home when his path crossed the group of riot protesters. Many people were arrested and Matej was among them. He wasn't even given the right to a lawyer, so everything looks pretty grim for him. He is afraid what this cruel-looking soldier might do to him. He is now in his cell in military prison called Novo Sazky, closely guarded by rough and strict Soldier Ivo.
Novo Sazky is a cold and depressing place. Soldier Ivo is trying to get warmer by reading a porn magazine. He misses his wife and needs to dump his load. Just when he was about to whip it out and start jerking off, he is called on the radio by his superior officer and ordered to check the prisoners.
Ivo likes to treat the prisoners roughly and humiliate them. Today he got a brand new prisoner Matej and he can't wait to get his hands on him. 
Ivo realizes that his new inmate is rather cute and might be a good substitute for his ever horny wife. Fuck the jacking off, when you can have a real hole to fuck. Ivo begins to strip search the young cook and toss him around violently. Matej tried to plead for mercy, but the manly solider didn't want to hear anything. Matej is given the order to shut up and submit.
Ivo wants to see how good Matej is physically before he starts fucking him. He forces Matej to do squats and push ups. The poor young boy has such a tender body, he has never been into sports and has no physical stamina at all. On the other hand, soldier Ivo has been in the military for quite a long time and it has made him a very strong, muscular man. Ivo is a tough, hard fellow with a heart that has become hardened by the violence and horrors of the war.
Solider Ivo continues to oversee Matej's forced workout and Matej is still not aware of what is coming next. He has no idea about Ivo's real intentions and that his little tight asshole is goint to be stretched and violated very soon.
Soon enough, Matej realizes that this soldier is really after his ass. Not long after this "foreplay" the soldier dragged Matej to another room and removed his clothes. He tied his arms up and stuck his middle finger into Matej's ass. That hole had never been violated by anything or anyone, and now this tough motherfucker wants to pop his cherry hard and raw.
The soldier shoved his big and rather long erect dick all the way and buried it deep into Matej's ass. Matej screamed from intense pain and begged for mercy, but none was forthcoming. The nasty soldier didn't care about the boy's pain, he just fucked him hard. The boy tried to stand up but that caused even more pain. After fucking him for some time in the standing position, Ivo took the boy to a bed.
Soldier Ivo tried to imagine a young girl instead of this boy. He began to fuck the boy in the same manner as a man fucks a girl. After a long fucking and many different positions, the soldier untied the boy so that he could suck his cock and receive his load directly in the throat.
Like any just recently broken-in inmate, Matej submitted to the soldier's request and obeyed him to the word. He opened his mouth and swallowed all the semen from the soldier's ejaculating cock. Some of the cum dripped down onto the floor, but Matej managed to catch most of it and swallow it.
When this was over, soldier Ivo takes Matej and drags him to his cell. Ivo is happy to see that the young boy got an erection after this nasty fucking. The boy will be a good prison bitch, obviously. "As of today, I'm gonna fuck this little bitch every day," Ivo thought to himself.
Preview video:


Click here to download their entire military video in HD quality at GayWarGames!
GayWarGames is a Russian bareback porn site with a distinct military theme. It has been around for some time, but lately the soldiers are really hot so I wanted to give you guys a preview of what you can find there. The tops are really straight-looking, mean dudes in camo uniform, and I must admit they defo turn me on. I am a sucker for soldiers and military uniform and these uniformed motherfuckers certainly push all the right buttons. The action is set in a fictional country called Thukistan. Apparently, young boys often get abducted by mean, sex-starved soldiers here and get brutally fucked bareback. Hot stuff.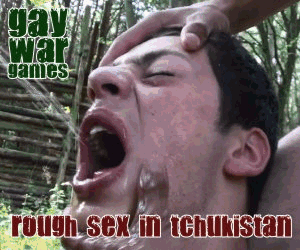 Leave a Comment
:army cap, bareback fucking, big cock, combat boots, Cruel, cum eating, first time anal sex, forced blowjob, handsome, humiliation, masculine, Matej, military uniform, muscled, soldier Ivo, soldiers
Click For More...
by Ben Daniels (Admin) on Jan.09, 2012, under Manavenue
We found Mike Rivers taking a break from his hard work in a neighbor's garden a few weeks ago.
This blue-eyed stunner was not really excited about his current activity in the garden, but he had another idea.
Watch him "work" his hard dick and play with his ass while pointing his pink hole toward the warm sun. He lubes up his finger and plays around his crack before probing his tight hole.
Be sure to catch him as he spills his seed before heading out the gates to clean up. Gee.
I wonder what's gonna grow up in that pot?
Short preview video:
Click here to watch their entire video in perfect HD quality at Manavenue!
Manavenue is an exceptionally good porn website that features masculine, cocky, muscled, powerful straight men, the type of guys that grab your attention while you're secretly ogling them in the street or in a supermarket. These tough motherfuckers are aware of their sexual appeal and want to show you everything they've got.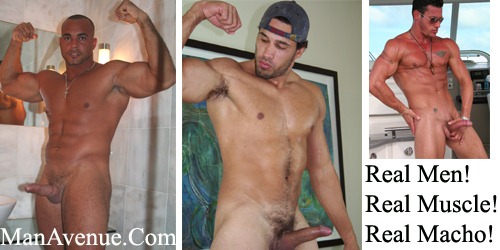 Leave a Comment
:army cap, cumshot, cute, facial hair, Gardener, handsome, huge cock, jerking off, Mike Rivers, Spilling Seed
Click For More...