Tag: Devin Adams
by Ben Daniels (Admin) on Jun.11, 2017, under BaitBuddies
Half-Irish and half-Polish hunk Devin Adams was first seen on Baitbuddies some 5 years ago and he's always been one of the fans' favorite guys. I think you'll agree he looks better than ever. He felt drawn to his ancestral roots and wanted to try something with another Irish dude.
Brendan is a hot bearded Irish guy – definitely very Irish as evidenced by his thick Irish accent. His specialty is to help people find their long lost relatives and to determine their family or ancestral history.
The two guys had a long and interesting chat online and after some time decided they should meet in person. Devin then told Brendan about his past porn endeavors on Baitbuddies and that got Brendan quite interested… so much so, in fact, that it was Brendan who made Devin ask Baitbuddies director to invite them both into the studio.
Both men were very horny and their cocks were hard in no time! When the clothes were off, the only thing Caruso could do was to make sure the camera was properly positioned to catch all the hot action!
Click here to watch their complete video in HD quality at Bait Buddies!
Bait Buddies is a pretty hot straight guy site with plenty of updates and some very hot guys indeed. There is always a "bait" dude who is bi or gay, and a straight (or sometimes "straight") dude who needs to be seduced into gay sex.

3 Comments
:beard, blowjob, Brendan, Devin Adams, flip flop fucking, hairy chest, hairy legs, hardcore fucking, irish men, kissing, muscled, smile, straight to gay, straight-looking
Click For More...
by Ben Daniels (Admin) on Mar.09, 2012, under Big Dicks At School, Men Dot Com
Devin Adams is a quick-tempered sportsman, but he's a damn good player, probably one of the best in his school. His main problem is a lack of discipline and anger issues. In fact last month he was kicked out of a different game and now his coach Matt Cole is furious because he can't allow to lose his best player once more.
Matt starts to shout at Devin and threatens him that he'd bench him for the entire season if he doesn't put his anger in check. But Devin is also furious and he's not listening to his coach. He usually gets spontaneous erections when he's angry or excited, even just from playing game.
Eventually Matt doesn't want to put up with Devin's arrogance and pushes Devin into the lockers. Matt is now yelling at Devin and blackmails him that if he wants to be on this team he's gonna have to prove he is good enough.
Devin has a little secret though. He has been attracted to his coach for quite some time. He likes girls but there is something about this coach and his conspicuously masculine energy that just drives him crazy whenever they are in the same room. Devin is convinced that if he offers his ass to his coach it would solve all their problems and the two men will have to sign the truce.
Short preview video:


Click here to watch their entire video in perfect HD quality at Big Dicks At School!
What happens when a hot teacher meets a hot student who is misbehaved? Or when the student can't control his urges towards that super hot teacher? Find out at Big Dicks At School!
Big Dicks At School is a new site from the Men.Com network of sites. If you join any of the 4 sites in the Men.Com network you automatically get access to all 4 sites!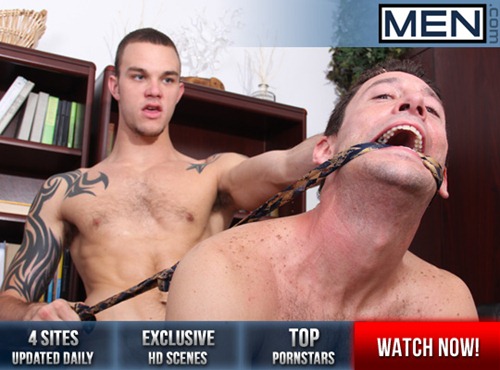 Leave a Comment
:aggressive fucking, big dick, blowjob, Coach, Devin Adams, locker room, masculine, Matt Cole, muscled, rough look, sweat suit, trackies
Click For More...