by Ben Daniels (Admin) on Aug.17, 2014, under CMNM
Mr Rossi has just finished with his daily workout session and heads towards the locker room. Pervy manager Adrian follows him there because he wants to experiment with his naked body. Namely, pervy as he is, manager Adrian has conceived a plan to put Mr Rossi in a predicament by disallowing him access to his clothes. Adrian was putting the glue on Mr Rossi's locker so it couldn't be opened, but just at that moment Mr Rossi arrived and caught Adrian in the act.
Just as this big straight hunk thought he could deal with Adrian as a man with a man, using his strong muscles to teach him a lesson, Adrian begins to blackmail the big beefy hunk. Mr Rossi realizes that his marriage would get into a lot of trouble if Adrian ever discloses these secretes to anyone, so he's now at the mercy of Adrian and his pervy wanton mind. Mr Rossi is aware that if Adrian reveals his secrets not only his marriage but also his well-paid job would be in jeopardy.
Adrian invites his buddy, hot personal trainer Dave, to assist him in examining Mr Rossi's naked beefy body. Mr Rossi is extremely nervous because he has always had a big aversion to such perverts and never allowed other men to peek into his hot body, let alone touch his balls and cock. Although completely furious about the whole thing, Mr Rossi cannot help getting an erection while the pervy men are fondling his genitals. Soon enough he's sporting a big hardon and the pervy men don't intend to let him go before they've taken a sperm sample from him.
Check out these pervy men's wanton adventures in their whole videos in HD quality at CMNM.
Clothed Male / Naked Male (CMNM) is a superhot porn site where Nervous straight guys get stripped naked, groped and violated by fully clothed men.
There's nothing better than stripping straight lads completely nude, putting their bodies on display, and teaching them exactly how to submit! When they are in such a submissive position, one would be crazy not to use the opportunity and jerk them off!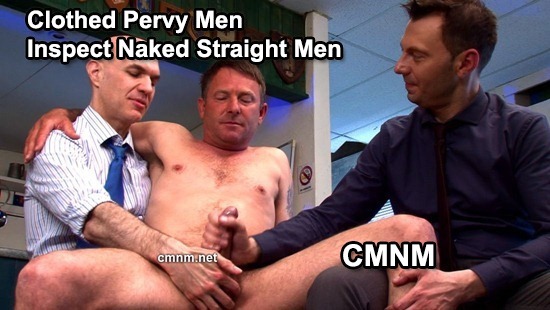 :Adrian and Dave, beefy, forced handjob, hunk, locker room, Mr Rossi, muscled, Sperm Sample, straight men, tattoos