Tag: first handjob
by Ben Daniels (Admin) on Apr.18, 2018, under English Lads
One of the members favorite straight guys Tom Lawson thought it was time to broaden his horizons a bit more. Englishlads members just loved his videeo where he let the male masseur massage his cock, and this time he will have the opportunity to give hand job to a guy for the first time.
Young and confident lad Dominic volunteered to help Tom in this little endeavor. Both guys have cocks that are about 8 inches long, Tom's tool is somewhat thicker and Dominic's is a bit longer. So they stroke each other's cock, hardly ever touching their own. Tom shoots a massive load – many big squirts with lots of cum, and some of them flying past his head and some even landing on the floor. Dominic's load was also pretty good, but it may appear small when compared with Tom's cumshower!
Click here to download their entire video in perfect HD quality at EnglishLads!
English Lads is a fantastic site with loads of very manly, straight lads from England who love to show off and jerk off for the camera.  The guys that appear here are usually not found on any other site, so the content is quite exclusive. All movies are in HD quality.
Leave a Comment
:beard, Dominic Moore, first handjob, hairy chest, huge cocks, Massive Cumshot, muscled, straight guys, Tom Lawson
Click For More...
by Ben Daniels (Admin) on Jun.30, 2013, under Dirty Tony
Peter Black appeared in several videos some years ago (mostly his solo jerkoff videos), and then he disappeared. Somehow I knew he would be back one day, because it's such easy money and he's a horny big-dicked motherfucker – hence, perfect for porn.
Despite all this I was a bit surprised when I saw his Called ID on my phone. I mean you expect he'd call one day but it always surprises you. He said he decided to get back into shooting gay porn and that he decided to push his limits and horizons even further than before.
When he arrived I immediately noticed that he is still in shape. He's the silent type – doesn't speak much and lets the cock do all the talking. Gotta love that! Add to the mixture his fit body, blue eyes and his huge uncut cock and he's a stud to die for. His cock is not only big, it's also thick and his cockhead is just perfect.
As soon as he whipped out his monster, I grabbed it with my hand and was mesmerized by its girth. He certainly knows how to jerk his dick, but nevertheless it's not an easy task considering its size, so I gladly offered my helping hand. I even used both hands while he kicked back and enjoyed the handjob from another man.
Needless to say, my cock got hard in no time and I whipped it out. I took his hand and showed him the way to my cock. He starts to stroke it somewhat sloppily but I can sense the enthusiasm. This man has never had any such experience with another man, so it's understandable that he's a bit awkward at first.
His dick got even harder while he was stroking my cock. It's as if the realization that he can make me so hard made him even hornier and harder. That's what happens when two males can feel each other's masculine firmness in their hands, it's just the nature of the beast. Males get hard when they see other males with erection.
We have a little sword fighting and I compare our dicks. His is bigger, but we both confirm each other's masculinity by holding each other's most important male organ in our hands.
I am still jerking him off and suddenly his balls tighten up and the next minute he is shooting his load. He shot several big chunks of cum, and only several seconds after that I follow suit and shoot my load. Lots of messy cum after this!
Peter seemed quite happy with the results of our mutual jerkoff session and I sure as hell am glad to have him back.
Preview video:


Click here to watch their entire video in perfect HD quality at Dirty Tony!
Dirty Tony is a great site for lovers of aggressive hardcore fucking and hot, masculine men. These men are often new, prospective porn actors and they haven't been seen on other sites. Lots of really strong, rough studs here!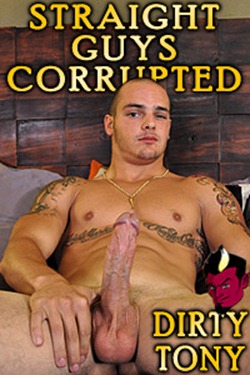 Leave a Comment
:big cockhead, big cumshot, facial hair, first handjob, fit body, huge dick, masculine, Mutual jerkoff, Peter Black, rough trade, straight guys, thick cock
Click For More...