Today we're going to take a closer look at six hot straight lads from England: Craig Marks, Liam Cullen, Dominic Moore, Danny Moore, Troy Connolly, and Darius Stone.
Hot lean newcomer Liam Cullen need not fear his first appearance in front of the cameras, because he's been paired with experienced and very confident muscle stud Craig Marks! Craig starts touching, caressing and kissing Liam's lean fit body, making this newbie more relaxed and at ease to try out new things and discover new horizons. Then, Craig takes Liam's big hard uncut cock into his hand and starts sucking on that beauty with great desire and fervor! Liam is still unsure about sucking another man's cock (although he said he would think about it), but oh boy, he definitely loves getting blown by another experienced man! He loved it so much that it didn't take him too long to blow his load and spray himself with his jizz. Craig quickly lapped up every last drop of Liam's cum… then Craig shoots his own load! Damn, that was one fiery beginning of something very special. Great work, guys!
*****
Danny Moore is also relatively new to the world of porn, but he was paired with a very capable mentor! Our old friend Dominic Moore may be the cheekiest lad we've ever seen, but at the same time one of the hottest and most adorable. So we have two Moore's sitting next to each other and looking great! Things begin to get quite hot when both lads grab each other's cock and start stroking each other's hard meat.
Danny was brave and wanted to try to suck another guy's cock for the first time in his life. And he probably couldn't have found a better cock to suck than Dominic's! Dominic's cock is so big, extra-long and uncut on top of all that. The guys definitely had lots of chemistry and got along very well. We can enjoy their banter and lots of positive energy while they're wanking each other's hard throbbing hard-ons! The exchanging of blowjobs is also hot and interesting to watch, especially because Danny is such a newbie and all this is a first for him.  Both guys were pretty eager to cum, and Danny was the first to blow his load. Soon after that Dominic dumps a huge cumshot which flies all over to his face! Great job lads!
*****
We've already seen Troy Connolly once (check him out here) and now he's back to do some more porn! Troy was in the mood to push his boundaries, so he agreed to get a helping hand from another man (i.e. Nick, Englishlads director). Troy is a hot, lean and fit, easy-going guy with a great smile and attitude. In the beginning he teases us by demonstrating some push-ups while being naked. He walks through the house with his soft cock dangling between his legs.
But then when Nick begins to stroke his uncut dick, it quickly rises to the occasion! What a wonderful uncut and throbbing cock! Nick puts a lot of oil and gives him the best possible oily dick massage one could ever get. Troy raises his legs over his shoulders and lets Nick experiment with his smooth virginal hole. Nick uses his fingers in a pretty competent way, and soon enough Troy releases a nice load of jizz which flies through the air!
*****
And last but certainly not least, we have young straight boxer Darius Stone! This hot muscular bad boy feels totally confident and natural in front of the camera. He knows how to show off his ripped body. We loved the fact that he let his body hair grow out so we could see some fuzzy pubes. At the request of the director, Darius pulls his legs behind his ears on the chair to show us his hot muscular and very hairy legs, as well as his hot manhole. Then he takes a little walk around the house with his cock fully erect! When he reaches the top of the stairs, he starts stroking his cock and teasing himself with his hands. Once he's properly turned on, he goes to the sofa and continues to jerk off until he shoots a nice load of warm sticky jizz! After that he heads straight into the shower to wash off all that cummy mess. Fantastic work, Darius! We hope to see you again soon, maybe with some other guy?
Liam Cullen & Craig Marks
Danny Moore & Dominic Moore 
Troy Connolly 
Darius Stone 
Preview videos: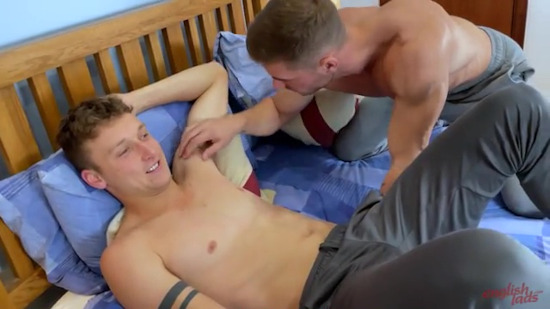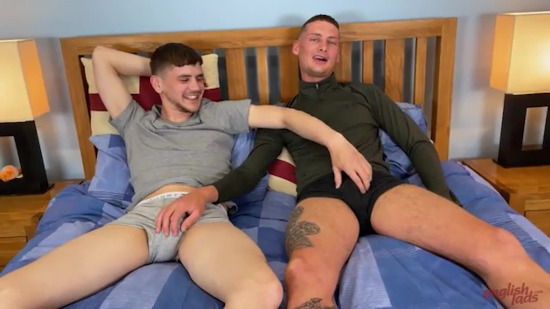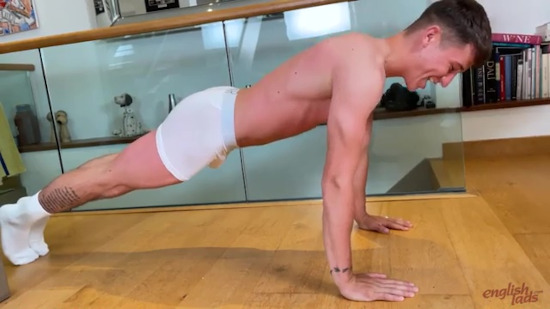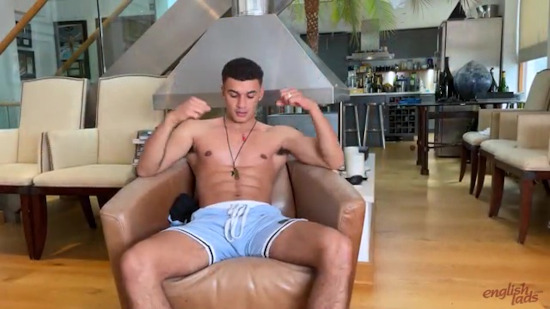 Click here to download their entire videos in perfect HD quality at EnglishLads!
English Lads is a fantastic site with loads of very manly, straight lads from England who love to show off and jerk off for the camera.  The guys that appear here are usually not found on any other site, so the content is quite exclusive. All movies are in HD quality.