David is a cute, handsome and well-built 30-year-old straight guy. He lives in Paris, and the Keumgay staff first noticed him in the locker room of a swimming pool. They really liked how David looked and decided to approach him and offer him to make some photos and a video for their site.
David was alone and there was no reason to fear approaching him. When the Keungay guys first saw him, David was in water and on the pool deck.
David's body is really well-built, with just the right amount of muscles. He emanates such a pleasant aura of a confident straight man that the Keumgay guys couldn't resist the temptation to approach him.
After he was offered to make photos and a video for their site, David had a few questions to ask and then he seemed to be down with it.
He took their phone number and promised to call within a few days. David then proceeded to the shower and the Keumgay guys followed him there, greedily devouring the sight of his hot masculine body. David was naked under water, and that shower gel running down his swimmer's body was such a hot sight to behold!
His cock became hard under water, and he could see that the Keungay guys were observing him. So he decided to play with his cock and rub his body in front of them, thus putting on a good show.
And, as promised, David called them a few days after that and came to pose naked for the photos. To make things more easy-going and relaxed, the Keumgay guys offered him a nice relaxing massage.
It was so hot to touch David's muscular chest, and to play with his nipples. Sure enough, this was more than enough to make his cock hard, which was a sure sign that David was enjoying the treatment he was getting. So the Keumgay guys continued to play with his body and within a few minutes his cock was hard rock hard!
After having played with his torso, the Keumgay director told David to take his pants off so that they could continue with the erotic massage.
The director poured quite a bit of cream over David's beautiful balls and that hot hard cock. You can tell that David enjoyed every second of this massage, and we hope to see him again for some more in depth explorations!
Preview video: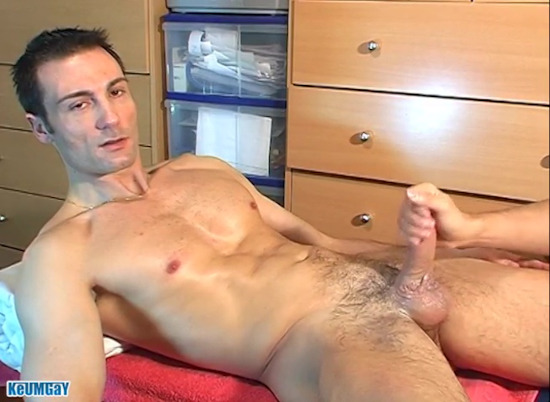 Click here to watch or download their entire video in HD quality at Keumgay.