Tag: hairy butt
by Ben Daniels (Admin) on Aug.12, 2016, under Island Studs
Meet Warren! He's a hairy and handsome charming guy from Nevada who found his way here to Hawaii. He's always wanted to try his luck in porn, so this is something like a long-time wish come true. Warren is 23 years old, he's 5'10" tall (177 cm) and weighs 170 lbs (77 kg). He maintains a scruffy looking face and he loves surfing!
We were pleasantly surprised to see that Warren has a definite exhibitionist streak – he loves parading around the beach completely naked and with his fully erect cock. From time to time, he would stop and give his cock a few tugs, jerk it off a little and then proceed with his walk in the sun. His cock never goes down, it's maintained a solid erection pretty much throughout the whole video.
There's also a standard (for Islandstuds) peeing session where we get so see how this boy takes a nice long piss in nature. Warren is also pretty creative when it comes to various jerkoff techniques, and he showed us some that he invented himself. He also told us some interesting sexy stories along the way!
After some time we also get to see him taking a nice long shower with lots of soap suds. He slowly soaps up his entire body. He then lets the water wash away the soap and leave his body squeaky clean.
Preview video:
Click here to watch his entire movie in HD quality at Island Studs!
Island Studs is a great, new, and refreshing porn site that features hot guys from Hawaii. These bad boys have no problem with showing off their beautiful, toned body and hard cock. Watch them as they do their usual chores against the stunning backdrop of Hawaiian nature!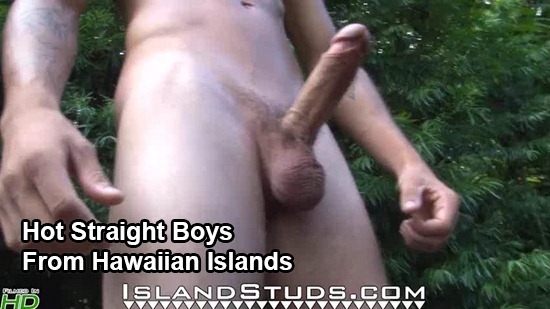 2 Comments
:beach, beard, Cowboy, hairy butt, hairy chest, Hawaiian, jerking off, nice cock, scruffy face, shower scene, smile, straight men, surfer, Warren
Click For More...
by Ben Daniels (Admin) on Sep.25, 2015, under SpunkWorthy
Derek is a hot and handsome straight dude who wanted to try his luck in porn and make some easy cash along the way. Derek is only 20 years old, with a gorgeous hairy and beefy body. He weighs 185 lbs (84 kg), he is 6′ 3" (190 cm) tall, he wears shoe size 11 (45 euro), and his cock is 7 inches long and cut (18 cm).
He had his doubts when we first suggested the happy ending massage because Derek is really straight and has never even been touched by a guy with a sexual intention. Since we had an happy ending massage on our mind, it took some time until the notion settled in Derek's mind and before he became comfortable with the idea. Eventually, however, he sent us a text message and asked when he could come for the massage!
Derek didn't say anything about the massage to his girlfriend and his male buddies. Derek had saved his load for at least a week, so you can imagine there was quite a lot of pent up sexual energy in his loins when he arrived to our massage table. As soon as the male masseur started massaging Derek, his cock reacted and became stiff. Obviously, Derek didn't need a lot of stimulation to get him over the edge, so the masseur had to be careful. The masseur slowly rubs Derek's muscles, butt, hairy legs and hairy chest, only occasionally stroking Derek's cock so as not to bring him over the edge prematurely.
After some more time, the masseur decides to focus on Derek's cock and milk it. He strokes it a few times, and that was enough to bring Derek over the edge. Derek's breathing became a lot more deep and noisy, he gasped a few times and announced he was going to shoot his load. Soon enough several ropes of cum shot out of his cockhead and dribbled down the side of masseur's hand.
Preview video:
Click here to watch and download his entire video in HD quality at SpunkWorthy!
SpunkWorthy is a great porn site that features younger straight amateur dudes. Lots of truly straight military guys doing gay for pay only once or a few times! This site is usually the first and only place where you'll see these bad boys, so don't miss out!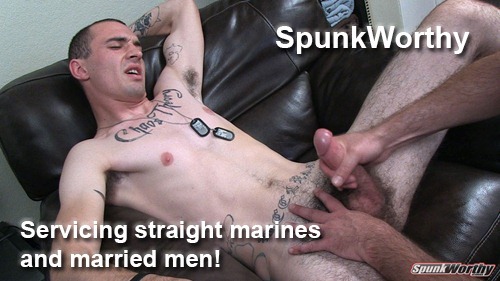 1 Comment
:amateur guys, big dick, Derek, gay for pay, hairy butt, hairy chest, handsome, happy ending massage, straight men, stroking cock, tall dude
Click For More...