We wholeheartedly welcome two newcomers and real Oregon bodybuilders: Beefy bearded Boxer Rigo and Cut Smooth Jewish Army veteran, Giant Judah. This is their very first time in front of the camera, and judging by this video that they've made, it looks as if they totally enjoyed their time together! There was a lot of muscle flexing, getting nude in nature, hugging, jogging nude, pissing, skinny-dipping, jumping around and playing together… and there was even a mutual Hawaiian Hula Hug Show to complete this muscle-filled, masculine video.
Now, if you're into really massive bodybuilders with HUGE muscles… we're talking about 405+ lbs, one with a cut cock, the other with a delicious foreskin, playing sports outside in nature, then don't miss out on this amazing video! Kick back and relax while watching these two Giant Latin Newcomers! Smooth Bubble Butt Judah and his buddy Thick and Hairy Muscle Butt Rigo. These two men are most definitely not shy and they totally get off on showing off all their manly assets. They are both into sports, so they played with a football quite a bit, while strutting their stuff in front of the camera. We must admit we really missed the scenes like these: two genuinely straight sportsmen with amazing muscular bums and totally ripped abs, playing with the Pigskin fully naked, out in public by the banks of a wide river in Oregon. The premise of the video is a little outrageous, but that's exactly why we love it so much.
Now, a bit more info about the stats. Special Forces Army Veteran Judah is 24 years old, his height is 5'1 (155 cm) and he weighs in at 210 lbs (95 kg). Unfortunately, he suffered an accident while Parachuting in the service and broke his back when his parachute didn't open during a training exercise. He is fine now, though! Judah is a typical, talkative Farm Boy from Oregon, and he has both Mexican and Jewish-American blood running in his veins. He is very determined to become a competitive Bodybuilder. Especially when he was told after the accident that he would never be able to lift weights or work out in the gym, Judah's will to succeed in bodybuilding has been strengthened more than it had ever been. And his body is a testament to his determination and dedication!
Rigo is 25 years old, his height is 5'9" (175 cm) and he weighs in at 195 lbs (88 kg). Rigo was born in Mexico with a Spanish mother and Mexican father, but he grew up in the San Francisco Bay Area before he moved to Oregon. As you may imagine, these two powerful bodybuilders are not shy about showing off what they've got! And even though they had never played football naked, they seemed to enjoy the experience together. They took off their clothes beside the river to reveal their muscular bubble butts framed in tight black jockstraps!
Judah's smooth muscular butt could barely be contained in his tight jockstrap, while Rigo's extremely hairy brown bubble butt was appropriately framed by his tight jockstrap. There's definitely something special in watching these two strong men with ripped bodies in athletic supporters while they hug each other and press their big butts together side by side. Judah says that he's very proud of his strong, muscular gym body, powerful butt, super hard abs, as well as his big hairy balls! You can feel the strength with which he wraps his arms around his buddy Rigo, while putting on a big smile! He was the first to break the ice with taking a piss in public while Rigo watched him. Judah flexes his impressive biceps and assumes a professional bodybuilder pose, with his fists above his head. Then he takes a piss in the sand between his bare feet. While the powerful stream of piss hits the ground, Judah keeps his muscles flexed. The well-known phrase "mountain of muscle" is totally appropriate for these two hunks, especially when you see them naked fooling around with each other outside. They don't just pose naked, they really got into the game and broke a sweat. You can see the sweat dripping from their ass cracks while they're busy with playing football beside the river.
Ass Lovers pay attention! This video is not to be missed! While Giant Judah's butt is naturally smooth and hairless, Rigo's butt is totally covered with a thick bush of man hair, which practically fills his entire butt, thighs and legs. There's so much hair on his ass that you could literally stroke it with a comb! We totally enjoyed listening to Judah and Rigo talking shit, which was of course completely unscripted. This is the typical conversation between two straight guys who love to play football together and crack random jokes along the way. Perhaps the best part of the video is when these massively ripped studs put on Hawaiian Aloha wear and posed together… holding bright orange and yellow flower leis around their huge pecs and shoulders and wearing grass skirts with nothing else underneath… and then they hug each other in the traditional Aloha Spirit while their cocks are popping out of the skirts… you really have to give it to them, these boys are epic.
Then the director asked them to open the grass skirts and show their cocks (one cut, and the other uncut). Soon after flashing their cocks, they turned their big backs to the camera, hugged each other again, and proved once again that these grass skirts were not sufficient to contain their powerful meaty man butts. Then they collect their gym bags and beach chairs, and walk across the sand together. Those big butts keep bouncing up and down while they're talking.
When they arrived at the parking lot, Rigo turns to the camera and takes a piss beside the road! His bright yellow pee squirts out of his uncut cock which he's holding in his hand! There are a lot of other epic, antics in this new video from Island Studs… all the lovers of muscular bodybuilders and rough straight guys should check it out. By the way, we've learned that a new Action Shoot is in the works with these two ripped studs… and of course, we'll be featuring that one as well – as soon as is out!
Preview video: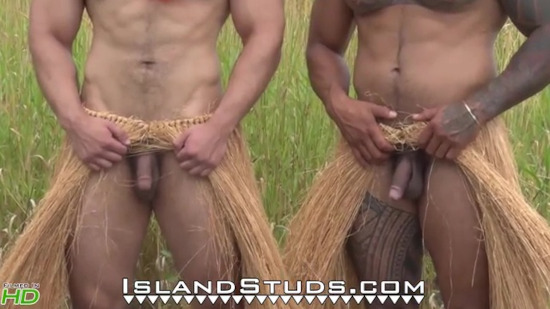 Click here to watch his entire movie in HD quality at Island Studs!
Island Studs is a great, new, and refreshing porn site that features hot guys from Hawaii. These bad boys have no problem with showing off their beautiful, toned body and hard cock. Watch them as they do their usual chores against the stunning backdrop of Hawaiian nature!