Today we're going to feature four hot and straight English guys: Lucas Wright, Dominic Moore, Ciaren Jones, and Clayton Hughes.
Lucas Wright has become somewhat of a regular on Englishlads, and it's easy to see why he's so popular among the visitors and members. He is very diligent about his workout schedule and visits the gym regularly. His muscles are bigger now than ever, and he looks great. Lucas is a naturally hairy guy with a thick bush and amazing hairy legs. He definitely broke new ground today when he agreed to wank another dude for the first time ever – and as you've already guessed it, that another guy is Dominic Moore. Dominic has a truly huge uncut cock and it's perfect for experiments like this!
The boys started off with some showing off on the roof of the house, and then Dominic gets straight to the point and begins to undress Lucas to examine his hot ripped body and muscles. Then they move to the bedroom, and Lucas can finally experiment with Dominic's massive throbbing cock! Lucas didn't look confused and knew exactly how to pleasure Dominic is the most efficient way, and then Dominic felt the need to return the favor. Dominic was the first to shoot his load all over himself. Lucas then stands up and also shoots his load – and damn! That must have been one of the biggest cumshots that have ever been recorded on the site! Just amazing!
*****
We've already seen Ciaren Jones' first photoshoot (check it out here), but this is his first ever proper video on the site. He is a young, tanned and ripped straight dude who regularly works out in the gym with his buddies. Although it was his first video, he felt very laid-back and confident. He demonstrates a mini workout session for us to show off his muscles, massive quads and big arms. Ciaren came with two buddies Harvey and Alfie who didn't mind dropping by and joining in the fun to help Ciaren with his workout. Of course, these boys were also thrilled because of the opportunity to show off their naked bodies and strut their stuff a little. They had so much fun together and fooled around a lot.
After some time Ciaren is totally naked and ready to play with his big uncut dick. He achieves a rock-hard erection in no time and loves to play with his big fat cock a lot. After some more passionate jerking off, he shoots a huge load of jizz all over the floor! That was a real fountain of cum! Hopefully, we'll be seeing Ciaren again in some next video, perhaps a massage with a helping hand?
*****
And last but certainly not least, we have Clayton Hughes. This young straight lad is also very diligent about his workout regime and goes to the gym regularly. And this easily shows on his hot bulging muscles which look pretty awesome. He has particularly impressive quads, big biceps and strong muscular abs. His legs are naturally hairy, and he has some of the natural bush as well. His asshole is very hairy indeed! This time round Clayton decided to broaden his horizons and to have his huge uncut manmeat manhandled by another dude for the first time. The Englishlads director first oils up Clayton's hot body and strong muscles, and then he spreads his ass cheeks to show his butt and asshole for the camera. Clayton's cock is huge, uncut and gets hard very easily! That's one truly hard cock, wow! After some time Clayton shoots his load all over the place – and one squirt of his cum even hits him straight in the face! That was an impressive show and cumshot Clayton, and we look forward to seeing you again soon!
Lucas Wright & Dominic Moore
Ciaren Jones & Friends
Clayton Hughes
Preview videos: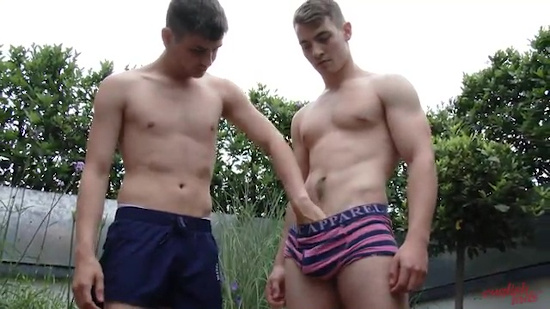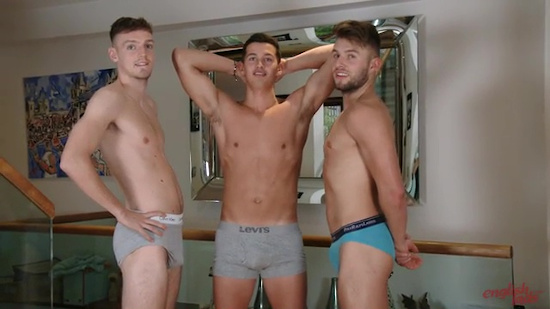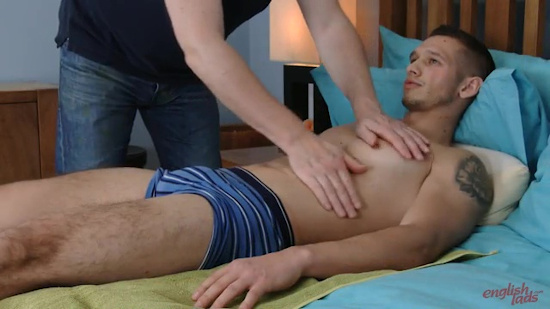 Click here to download their entire videos in perfect HD quality at EnglishLads!
English Lads is a fantastic site with loads of very manly, straight lads from England who love to show off and jerk off for the camera.  The guys that appear here are usually not found on any other site, so the content is quite exclusive. All movies are in HD quality.