In this new video from Islandstuds we're goint to take a closer look at two hot straight guys, who are also real-life classmates: Christian and Levaughn. Christian is a tall (6'4" or 193 cm) rock climber who sports a full bush of sexy ginger pubes on his cock and balls, and his buddy Levaughn is sexy basketball jock, complete with his chocolate Caribbean skin and hairy brown muscle butt. They were pretty happy to take off their clothes and show off their hot jock bodies for the camera.
Both of these guys are 27 years old. Christian is the taller one, standing at 6'4" and he weighs in at 170 lbs. Levaughn is the stockier one standing at 5'10" and weighing in at 175 lbs. When they were offered the opportunity to make this video in the forest beside the wide Oregon River, they were both immediately down for it. Their bodies look different, and perhaps that's one part of the reason why it was so hot to watch them showing off one next to another. They're both ripped, but Christian has a more lean, surfer type of body with tan-lines, strawberry blond hair covering his pink nipples, and his cock is nicely surrounded by a bush of ginger hairs, whereas our basketball player Levaughn has a solid athletic body, very bushy and black dick hair, just the right amount of chest hair on his muscular pectorals, very hairy muscular arse, impressive 6-pack abs, and decently ripped biceps. They came in very sexy colorful shorts and had lots of fun posing half-naked and naked for the camera in this duo shoot.
For those of us who have been following Islandstud's videos for a longer time, we're well acquainted with their popular Football Nude Series, and the edition with these two guys doesn't disappoint either! We can watch these two athletic guys totally naked in a new wildly outrageous new video. There's quite a bit of your typical jock talk between straight buddies, genuinely honest talk about the women they like, and what they do for work. The guys were so thrilled to be doing this that they could hardly believe that they would be paid for it! "I can't believe we are getting paid for this!", Christian remarks with a smile, and then wraps his arms around Levaughn's shoulders, and even grabs his hot hairy butt! Levaughn returns the favor by grabbing Christian's white and smooth butt as well. There's no denying that it's fure fun to watch the first time Bromance between these two sexy guys.
Perhaps the best part of the video is when they play together and pound each other with the football, while standing outside in the hot afternoon sun – completely naked, of course! We can see in the minutest details how their cocks and balls dangle while they're playing football. When Levaughn tosses the football high in the air, Christian strives to catch it, and lands into the cool water of the river! Now that's what we call the player's dedication!
And now for something completely different: For all the piss lovers, there's also a very special event – the first time ever Pissing Duo while the guys are fully embraced! How's that for a change? Just pay attention to their face expressions while they embrace each other and take two long and powerful pisses at the same time! Christian was the first to finish his peeing, but Levaughn just kept on peeing, peeing and some more peeing! They also looked cool while wearing Hawaiian Leis and walking in the tall grass by the riverbank together.
Preview video: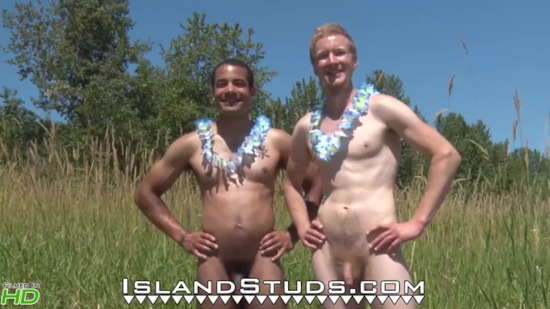 Click here to watch their entire movie in HD quality at Island Studs!
Island Studs is a great, new, and refreshing porn site that features hot guys from Hawaii. These bad boys have no problem with showing off their beautiful, toned body and hard cock. Watch them as they do their usual chores against the stunning backdrop of Hawaiian nature!